Gran Canaria Beaches: Which One to Choose?


Gran Canaria Beaches are all different from each other, and here we give you a summary. The coastline is 60 km. long. Most tourists stay in hotels located in the southern part of the islands, so I'm going to start with those beaches. If you it's your first time in Gran Canaria, don't forget to follow these health tips to enjoy your holiday under the sun.
Maspalomas beach: Of all the Gran Canaria beaches, this one is world famous, especially the dunes of Maspalomas, and its photo is always on covers of Gran Canaria guidebooks. It has areas for families, nudists, and gay community.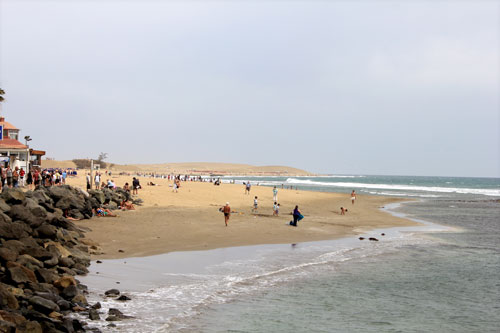 Playa del Ingles: This literally means "Englishman's beach" and is a big beach, which can be a little windy at times, especially after four o'clock in the evening. It has various Red Cross posts, a promenade with lots of shops, bars, restaurants, and stalls to rent jetskis. Surrounded by plenty of hotels, apartments, shops, discos. This is one of the best Gran Canaria beaches.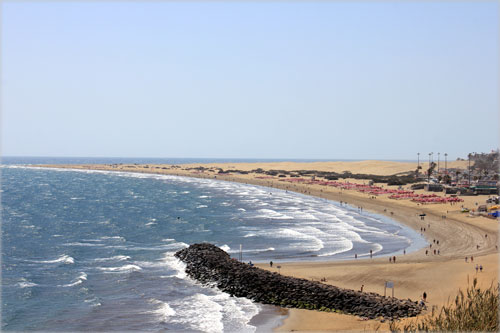 Meloneras: Located in a quiet area, next to the golf course. The beach is not too big, has a Red Cross post, and is connected to the Maspalomas beach at the lighthouse. The promenade has mostly high quality restaurants and many clothes shops. Most of the hotels in this area are new and very impressive ("new" means around ten years old); they are generally four stars but give a superior service.
Amadores: This is a calm beach with hardly any waves and great for children, as it isn't very deep, near the shoreline. Has lots of bars and shops, and is surrounded by two hotels: the Gloria Palace Royal, and the Riu. Small Red Cross post.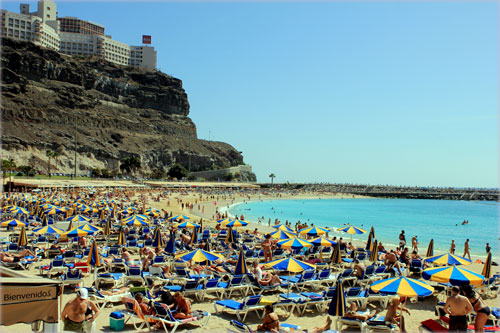 Puerto Rico: This beach is similar to Amadores, but a bit bigger. Few waves and calm. The most popular of all Gran Canaria beaches, among British tourists. There are a few bars and shops, but less than Amadores. A new swimming pool is being built on the promenade.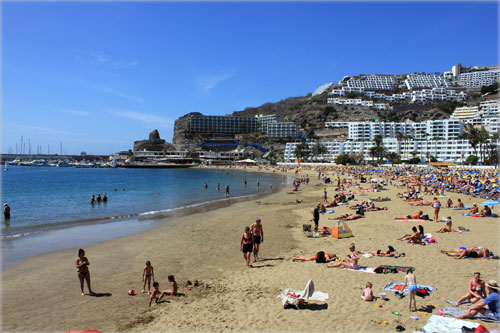 Mogan: This is a small and calm beach located in a picturesque village. Most people that go there are tourists, who are there to admire the pretty houses with pink creeper plants growing on them. It has lots of areas with plants and grass, and a harbour where you can see the fish moving in the water. Mogan has a variety of restaurants and souvenir shops.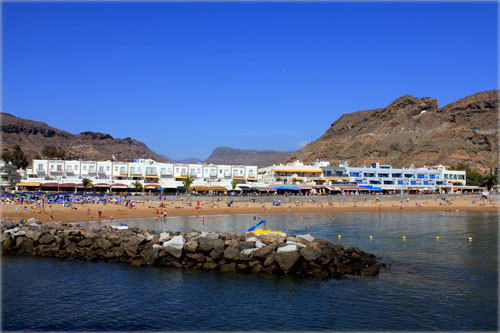 Anfi del Mar: This is a white sand beach located behind the Anfi Beach hotel complex. It is a good idea to wear flipflops as there are shells on the shore that can hurt your feet. You can rent jet skis, skates, and go for boat rides, from here. It is one of the most popular Gran Canaria beaches, among locals, so gets crowded in the summertime.
Arguineguin: This is a small beach with black sand and very few people, located in a fishing village. There is little to see around this beach for tourists.
Pozo Izquierdo: This is one of the windiest Gran Canaria beaches, and is the favorite of surfers and windsurfers. On the top of the beach, there is a surf school and a few surf shops.
Taurito has a tiny beach located under the Lago Taurito waterpark, between two hotels. You can rent paddle boats, jet skis, or practice volleyball in a small area on the sand. There is a mini golf course at the entrance of the apartment complex.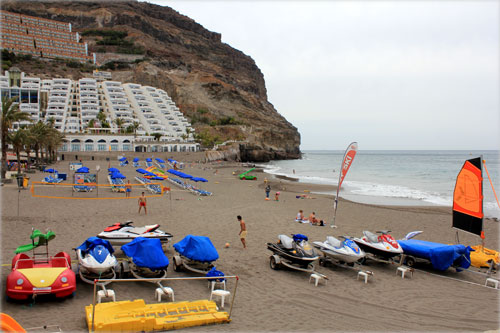 San Agustin: This is a small beach and can be quite windy at times. It is rarely overcrowded, and one of the first Gran Canaria beaches that became popular among tourists, especially Scandinavians. There are two Red Cross posts on either end.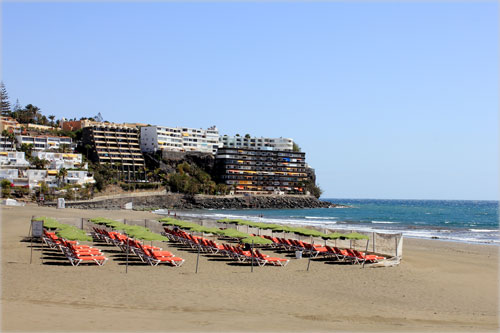 Las Palmas de Gran Canaria, the capital city of Gran Canaria, has four beaches.


Las Canteras : Thumbs up for the world's best city beach. A great place for families. Dozens of restaurants, ice cream shops, souvenir shops, etc. This beach has toilets, showers, and red cross posts.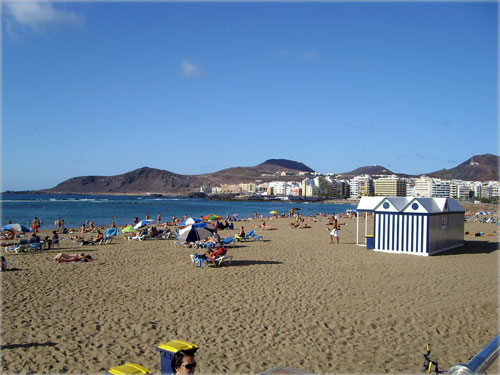 El Confital: A sand and rocks beach, great for fishing. It is a bit hard to get there by car, as one has to go through a dirt road with plenty of bumps, and only one lane for coming and going, so you may have to do a bit of back and forth driving to let others pass. Best is to go walking.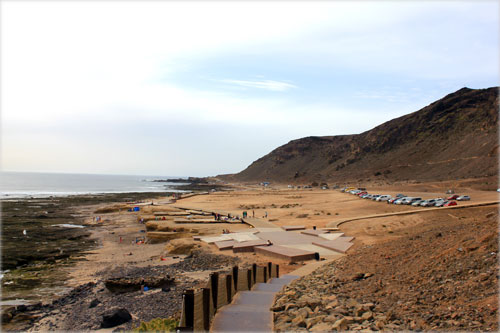 Alcaravaneras: This beach is located in front of the harbour. We recommend not to swim here as the water quality is not up to the mark. It is O.K. to take the sun, but during some parts of the day, the sun doesn't shine on it because the buildings behind it block the rays. Alcaravaneras beach is a favourite for beach volleyball lovers.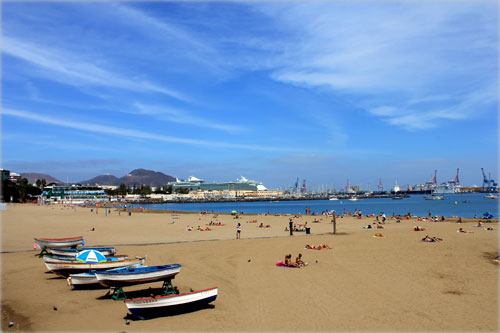 La Laja: Located near the outskirts of the capital next to the motorway, this beach has black sand, and isn't very crowded. We don't recommend this beach for children because of the rough sea and strong wind. There is no Red Cross post, but the fire brigade does show up during the day, to make sure everything is O.K.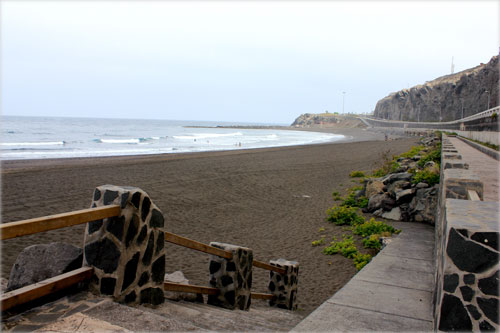 ---
Related Travel links:

---
Beach vacations at the coast west of Auckland, New Zealand's largest city, surprise with diversity. Endless black iron sand beaches interchange with a rugged coastline and the Waitakere Ranges as back drop. Find travel tips and get insights about West Auckland, New Zealand and the people living there.

---
Kenya Safari
Kenya safaris and holidays, hot-air balloon rides, wildlife safaris from Nairobi and Mombasa to Masai Mara, Amboseli, Tsavo game reserves and beach Holidays in Mombasa.
---
Sarawak Tourist Attractions
Sarawak tourist attractions is aplenty and widespread in Sarawak...the Land of the Hornbill. These tourist sites come in different types and styles...natural attractions...cultural sites...historical buildings and monuments and also man-made modern landscape. You can also find travelling information to and around Sarawak, accommodation and dinning outlet.
---