Las Canteras beach: The best city beach of the world


Las Canteras beach (in Spanish, "playa de Las Canteras") is the world's best city beach, and is the biggest beach located in the capital of Gran Canaria, Las Palmas de G.C. It has received the blue flag certification from the Foundation for Environmental Education, which means it has a high water quality, enviromental education and information, environmental management, safety, and other services. The beach has golden sand, and a rocky reef of volcanic origin called "la barra", which reduces the strength of the waves and protects swimmers from getting carried away by the sea. It is almost 4 km long and has a wide promenade with shops, bars, restaurants, and hotels, where people of all ages go for walks, do jogging, have a meal or drink, or just sit down to get some fresh air.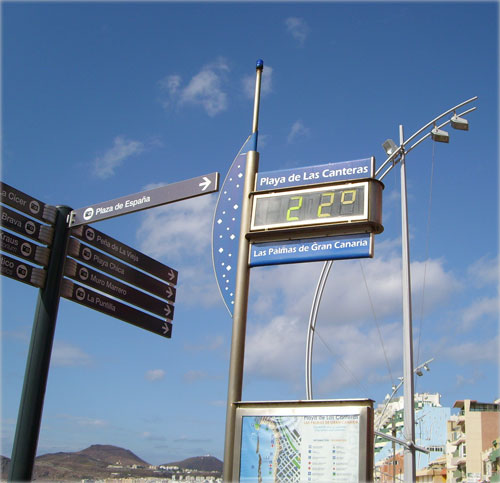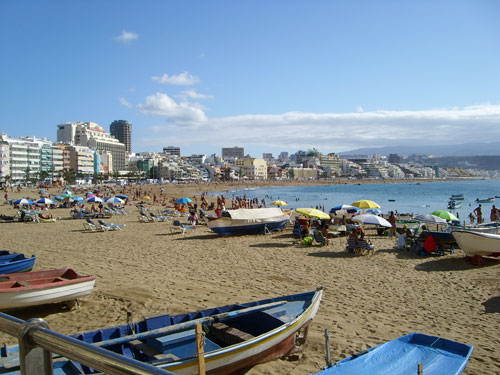 Overlooking Las Canteras, there are several hotels. It is highly recommended to pay a few extra Euros and go for the sea view rooms. There is nothing like waking up in the morning with the breathtaking views of the Canteras beach and seeing the beautiful sunsets in the evenings. I have stayed in, and recommend Hotel Cristina, for its great location and friendly staff. Here's a view of the beach taken from the hotel room.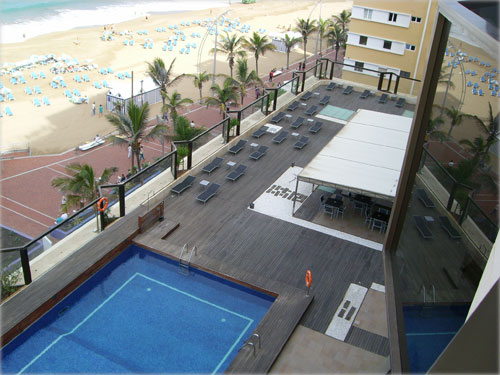 If one wants to go for a swim, it is important to check out the flags before. The flags are normally located near the red cross posts. A green flag means all is fine. A yellow one means that one must be careful, and a red flag means no swimming is allowed. Sometimes, on a great sunny day, there may be a red flag due to rough sea or jellyfish, so it's always a good idea to have a look. Most of the year, the beach is fit to swim or surf, although there are a couple of months that the water is too cold for locals, especially in January and February. During these months, mostly tourists will be sunbathing and swimming. The beach gets overcrowded between July and October, due to the hot weather.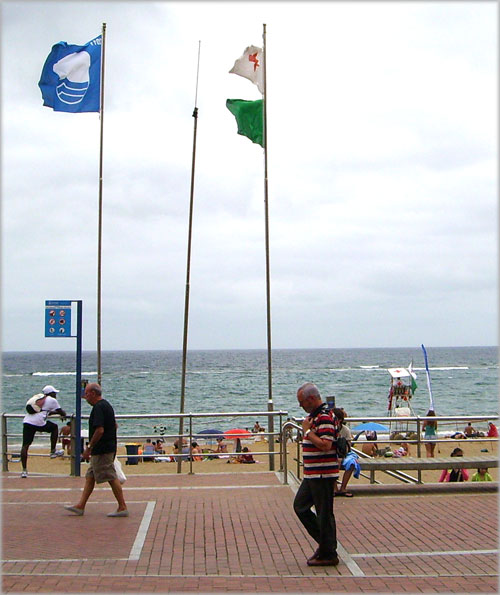 At the end (or beginning, depending on what way you are looking) is the Auditorio Alfredo Kraus, which is a where concerts and meetings are held. Next to it, is las Arenas shopping centre, which is the biggest and best shopping centre of the capital city.

As you stroll on the promenade, you will see different statues all along the beach, as well as talented sculptors who work hard during the whole year to make sand figurines. During Christmas, they make a huge sand Nativity scene, through which onlookers can actually walk through.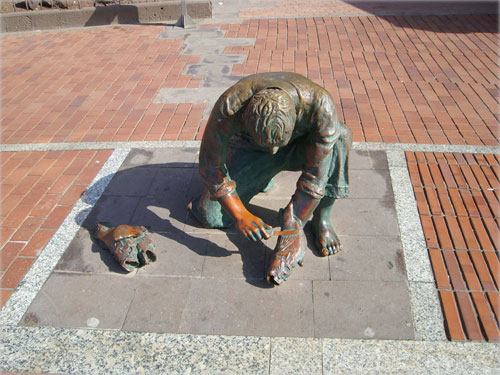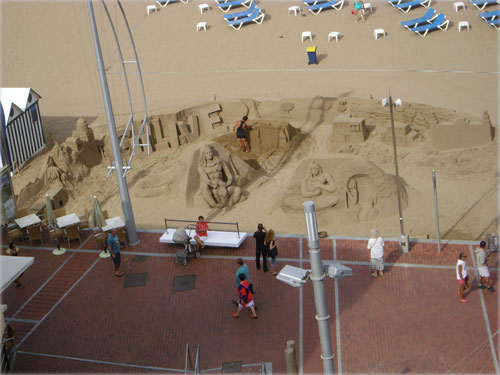 Gran Canaria Christmas under the sun, on Las Canteras beach. The photo below, was taken on Boxing Day 2014 (which is never a holiday in Gran Canaria). We had a summer 26ºC day. Click here to see the sand figures built by really talented artists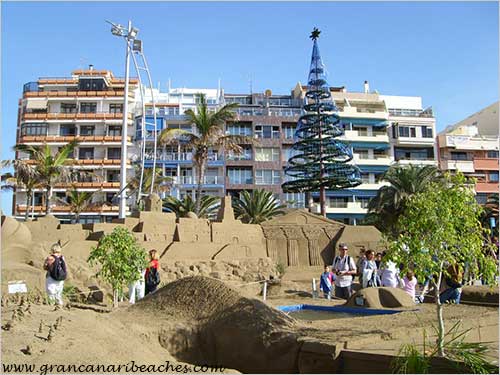 The picture below is of the Nativity scene built on Las Canteras beach in December 2013. Click here to read more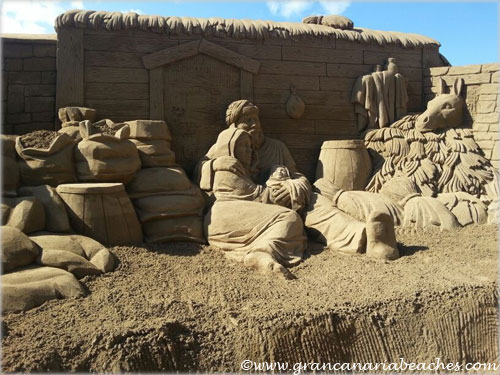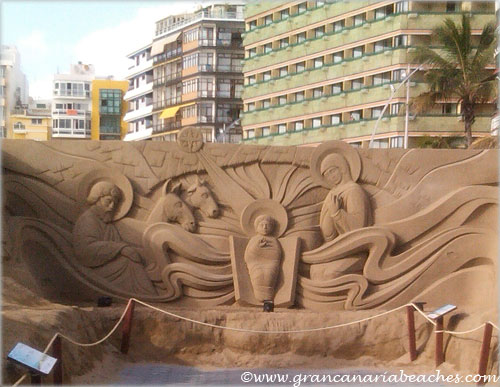 The photos above and below have been taken in the month of December 2012 and display the fantastic nativity scene figures.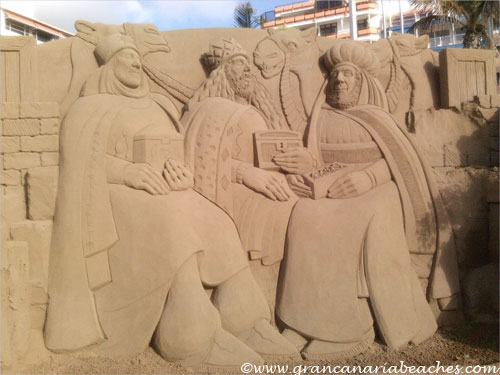 This bar on the Las Canteras beach promenade with live music is getting very popular!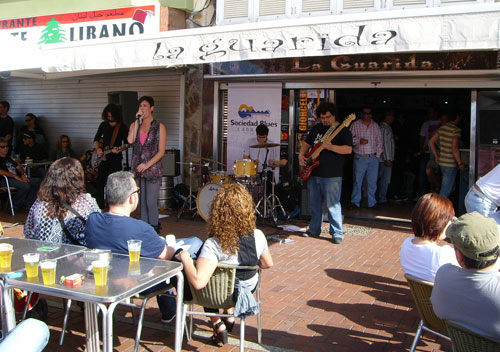 Here's another fantastic video by Gino Maccanti, fully taken on Las Canteras beach, between September 2010 and January 2011. Enjoy!!!


Las Canteras Beach Resources
miplayadelascanteras.com : This is a fantastic website that covers all what is happening on this beach, in real time.  You can see the webcams, read about the weather, and check out what's going on. Their twitter feed is also worth subscribing to, as they issue any warnings (eg. jellyfish or high waves) through it. Most of it is in Spanish, although there are some parts that have been translated to Englsh.
Return from Las Canteras Beach to Gran Canaria Beaches