Attractions in Gran Canaria


There are four main attractions in Gran Canaria. Palmitos Park (a park with great shows of birds, dolphins, and plenty of other animals from different continents), Sioux City (a "western" theme park and zoo), Holiday World (an attraction park with a bowling alley), and the brand new Aquarium. They are all based in southern Gran Canaria, except for the aquarium. You may also enjoy visiting "Moonlight Cinema," which claims to be "Europe's only open air cinema", where you can watch movies in English, while eating pizza and drinking a beer.
Attractions in Gran Canaria: Palmitos Park

Palmitos Park is mainly a bird sanctuary, and is one of the biggest attractions in Gran Canaria. In 2007 it was devastated by a fire that affected part of the island. 65% of the park was destroyed and although a lot of the birds were saved, some were released. A year later, the park reopened with a few added extras.
There are various shows which are advertised well, and if you time it right, you can wander through the park and catch each show. The 'Birds of Prey' is impressive with the eagles swooping through the valley and skimming over your heads. There is also a dolphin show with dolphin acts. You can't swim with the dolphins but if you pay a little extra, you can have a "Dolphin Encounter" where you can get really close and learn a little more about these wonderful creatures.
These are the highlights of Palmitos Park:
Dolphin Shows

"Blueworld" Aquarium
"Hunters of the Sky" show with the birds of prey
"Colours in the Air" show with exotic birds
Parrot show
Cactus garden
Butterfly House
Primates' Island
Orquid House
Meerkats
Reptiles
Opening hours: Opens daily at 10 o'clock 365 days a year
Click here to read more about Palmitos Park
Gran Canaria Aquarium: "Poema del Mar"
The Gran Canaria aquarium opened in January 2018. It is a recommended visit. The fish tank is massive, and you can easily spend a couple of hours looking at the different fish species, including sharks. 

Sioux City

UPDATE JUNE 2022:
Sioux City will remain shut for the whole year. The new Amazon Prime "Zorro" series is being shot there.
If you have a budding cowboy or Indian in your midst then maybe a trip to Sioux City would suit you. This theme park was built in the mid 70s for movies to be shot there, and has been open for over forty years, making it the oldest of the attractions in Gran Canaria.
Sioux City is a mock up of a Wild West town. Great place to go and see and spend the whole day there. You can visit during the day 10 to 5 each day (closed Mondays). You might see a shoot out, the can can girls might put on an act and you may need to help with an escaped Indian but don't forget to dodge the lasso's.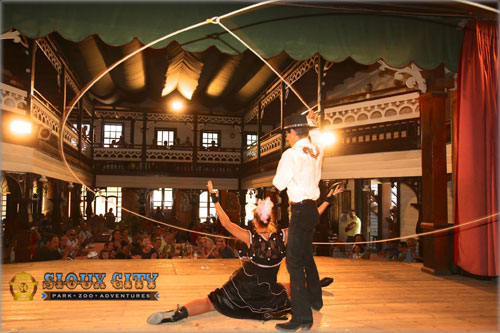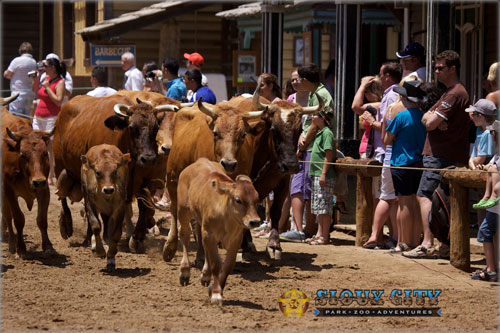 A family of meerkats looking at the tourists :)

Other things that you can do at Sioux City are go for horse rides, as well as use their facilities to organize birthday parties, weddings, and other events. We're sure your going to enjoy at Sioux City, another one of the enjoyable attractions in Gran Canaria.
Sioux City Address:
Barranco El Aguila, San Agustin, San Bartolome de Tirajana, Gran Canaria
Telephone: +34 928 762 573

GPS: 27º43' N       15º32' W
Open Tuesdays to Sundays
10.00 - 17.00

Prices:
21.90€ (Adults & kids over 12 years)
15.90€ (Kids 2-12 years old)
Free for kids under 2 years

Holiday World



Holiday world is another of the recommended attractions in Gran Canaria and a place for an evening trip. It has a few bars and various restaurants – think Brighton Pier! There is a fun fair with exciting rides. Also there is the best bowling alley of the Canaries, for those with a competitive streak. The park opens at six in the evening during the summer months, and at five in the evening during the summer months; it's better at night as there is more atmosphere.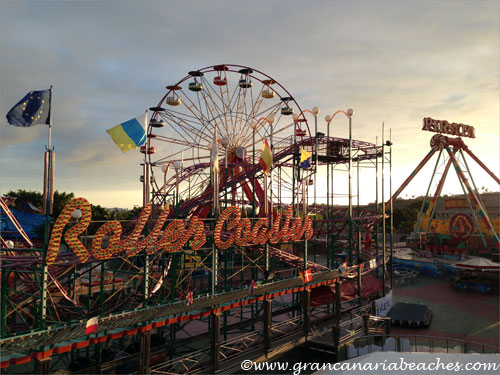 Entrance is free of charge. You are given a magnetic card which you can refill with money. Each attraction costs a certain number of points. The more you refill, the more points you get.

 €5   10 points
€10   25 points
€15   40 points
€20   60 points
€30   All inclusive card (unlimited rides for one person)

Rides cost between 3 to 8 points.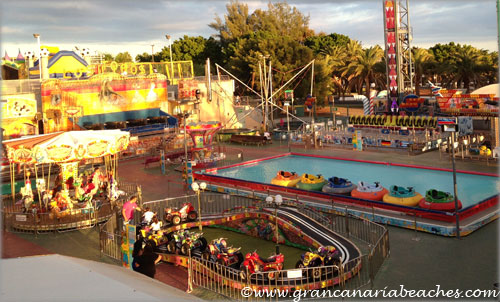 Besides being one of the attractions in Gran Canaria, you can also come here to do a workout, as it has the biggest gym of the south (2500m2). The gym opens from 8 to 22.30 on weekdays, Saturdays from 10.00 to 18.00 and Sundays (and holidays) from 10.00 to 14.00.
You can go for a day (€15) or pay for 5  (€45), 7 (€55), and 10 (€65) days. Special deals are available if you pay for three months. We find rates reasonable, because they include parking, use of Spa, pools, etc.
For more information about the Maspalomas Holiday World Wellness Centre, click here (website in Spanish, opens in a new window). To check out their latest offers, especially beauty treatments, click here.

Moonlight Cinema

How about an open air cinema? Moonlight Cinema is in Meloneras. It shows films in their original language (mostly English). You can have headphones to give you the dubbed voices in other languages. They have 2 'sittings'  although in the summer months the first sitting is at 9.30pm. As its outside, they have to wait until its dark to show the film!
They have big comfy sofas to sit in. You can order pizzas and drinks during the film, as full waiter service is available throoughout the movie. It can be chilly at night in the winter, but they provide big snuggly blankets to keep you warm.
To check out their program, click here (opens in a new window).

Location: first floor of Oasis Boulevard Shopping Centre, near el Faro de Maspalomas bus stop. Take bus 33 from Puerto Rico or Mogán, and bus 30 from Las Palmas, or Playa del Ingles.
Cost: 15 euros per person


Angry Birds Activity Park


The newest of the attractions in Gran Canaria is the Angry Birds Activity Park. It opened on the 31st of October of 2013, and belongs to a group of Finnish companies (Holiday Club, Rovio, and Lappset). It is the best place to take your kids if they want to jump around and try 25 different  activities. The total area is 5500 m2 and has a capacity for 1500 people. 40 new jobs have been created.
Click here to check out their Facebook page, where more information is given about each of the activities, in English and Spanish.

Cost of tickets for tourists per day: 
Adults and children over 14 years: 12 euros per person
Kids under 2 years of age: Free
Kids of 3 or 4 years old: 8 euros
Kids from 5-13 years: 16 euros
Adults over 65 years old: 8 euros
TIP: If you are going to visit the park daily, for more than a week, then the yearly pass will work out to be cheaper. Its cost is about the total sum of a week's daily rate.
We discourage you to buy the tickets online, because they cost the same in the ticket booth.
All kids under 14 need to enter the park with an adult.
Yearly passes can't be used on days where special events are organised (Christmas, Halloween, etc.)
Opening hours: 10 a.m to 6 p.m. Thursdays to Mondays, throughout the year
Address: Avenida Tomás Roca Bosch, Puerto Rico, 35138 Mogán, Canarias, Spain
Telephone: +34 928 15 39 76
Tenerife Theme Parks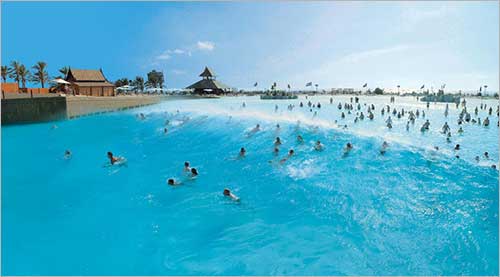 The "Wave Palace" is a big pool with a wave machine
There are two world-class theme parks in the neighbouring island of Tenerife. Loro Parque is an animal park, where there are different shows such as the dolphin show, the parrot show, etc. The other is Europe's biggest waterpark, and has a Thailand theme. Click here to read more about the Tenerife theme parks
---
Related Travel Links
Montego Bay Marine Park
is home to dolphins, mangrove forest, glitter waters, and bewildering underwater beauty. It is rated as the best underwater adventure you could enjoy in Jamaica, and is regarded as the most popular water based activity for all ages.
---
Return from Attractions in Gran Canaria to Gran Canaria Beaches