Golf Clubs in Gran Canaria


One would never expect to find so many golf clubs in Gran Canaria, for a small island off the coast of Africa. We have 7 full size courses, plus several 9 hole courses, all of which all are at very different levels, offering very different challenges.
The beauty of playing golf in Gran Canaria is that you can play all year round. Although we can get high temperatures during the summer months, a late afternoon round of golf as the sun sets could be one of life's pleasures.


Golf Clubs in Gran Canaria: Real Club de Golf de Las Palmas


The oldest of the golf clubs in Gran Canaria is the Real Club, locally known as Bandama Golf. The car park and golf club is based at the edge of Bandama, one of our many volcanoes, and so it's a great place to use as a base for a quick walk around a volcano crater as well. Real Club de Golf was inaugurated in 1891 and is not only the oldest club on the island, but also the oldest club in Spain. It retains the feel of an old colonial club with tree lined fairways. It's a Par 71. Although its based slightly inland near Santa Brigida, the views across the mountains on the outskirts of Las Palmas are wonderful. Its not a pay and play course, so before making the journey from the south of the island, to avoid being disappointed, you must phone in advance to book a tee time!
This course is based just outside Las Palmas, but if you move south, you have many more golf clubs in Gran Canaria to choose from.
Maspalomas Campo de Golf
Maspalomas Campo de Golf, is probably the most popular golf course. It is an 18 hole, Par 73 course and was designed by MacKenzie Ross. It has twice hosted the Spanish Open. Although the course is flat, it can offer its own challenges, but one of the main advantages is that the buggy/cart path is a more comfortable ride than some other courses, as it is tarmacked, so no bumping across rough terrain! Maspalomas also has a practice area for putting and pitching and a large driving range.
Several holes run parallel to the famous sand dunes of Maspalomas, so if you go off line, you could find yourself in the largest bunker in the world! There is also a restaurant at Maspalomas serving everything from a quick sandwich to pizzas and full meals.
Meloneras Golf Course


Lopesan Meloneras has Rafael Cabrera Bello as its Golf Pro. He ranked the 58th best player at the end of 2012, didn't have much luck in 2013, but looks like he's making a comeback 2014. You might be lucky enough to get a few personal tips from him when he's not playing in competitions around the world.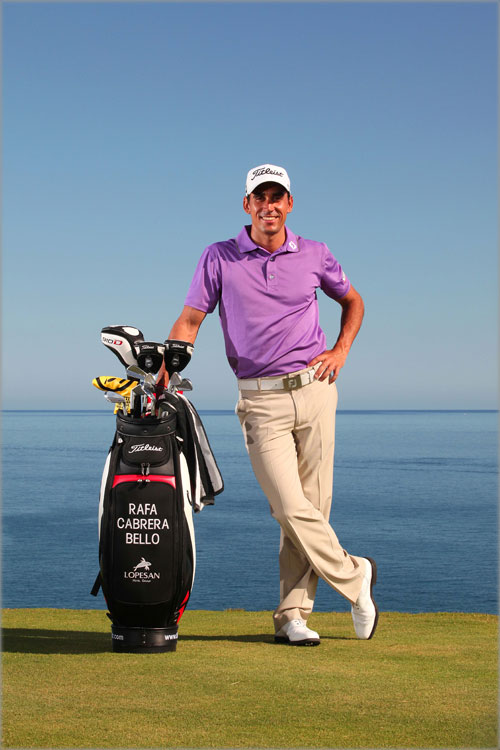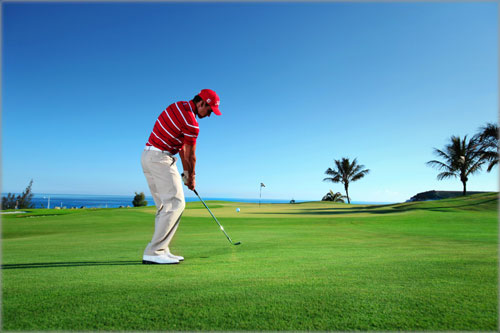 In this video, Rafael shows us the Lopesan Meloneras golf course, and tells us why he prefers this one, of all the golf clubs in Gran Canaria:
This course has everything challenging, short Par 3's, well thought out Par 4's and long Par 5's. The views are fantastic but be careful of the headwind, in the evening around the 12th Hole. The back 9 holes run along the coast so you'll have views across the ocean but the 12th hole probably has the best view/photo opportunity for any holes in the Canary Islands. There is also a very small restaurant.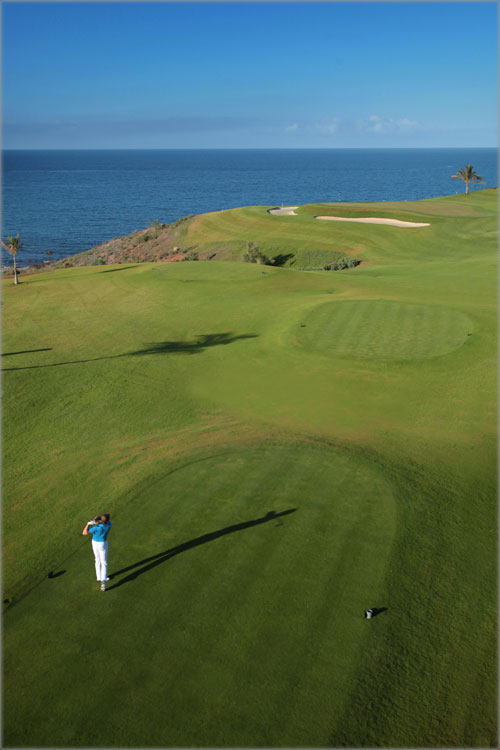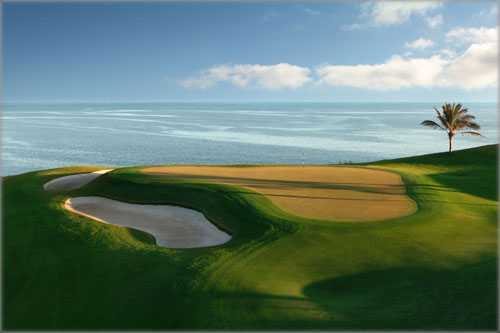 To play golf, we recommend to reserve beforehand, during the high tourist season (October to March). During the summer, there is no need to reserve. A set of Taylor Made golf clubs costs 50€ to rent.
To read more about this golf course, and to download their mobile phone app, click here to go their home page.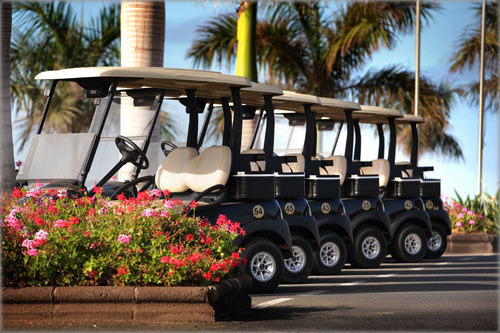 Salobre Golf Course
Salobre Golf has two courses, North and South. With these you have 36 holes and Par 71. The North one has great views but I've been told that its not a course to play if you don't like heights. These courses are based inland and in the mountains.
To see the green of the course contrasting against the backdrop of the mountains is a sight not to be missed. The fairways of the North are very sloping, so take a lot of balls! The south course is not so well cared for, but worth a go. Buggy's are a must! There is also a good restaurant on site.



Anfi Tauro

Anfi Tauro is the most southerly golf course just outside Puerto Rico. There is an 18 hole Par 71 course plus a small 9 hole Par 3 course and a driving range a short distance away. The 18 hole is very challenging course, but is reported to be the best cared for. Again, buggy's are a must. Being the newest course on the island it is not the best served for facilities, but there is a restaurant nearby for that after round drink.


As you can see, there are plenty of golf clubs in Gran Canaria to enjoy your golf holiday under the sunshine. We wish you a good game and play well!

Return from Golf Clubs in Gran Canaria to Home Page