Gran Canaria Beach Clubs: A Comfortable Alternative for your Holidays


Gran Canaria beach clubs are becoming very popular and you have a couple of choices around Puerto Rico. The beach clubs make you feel that little bit special. The few beach clubs I am thinking of are based next to the sea but are slightly separated. So you can watch the world go by and see the action on the beach, but you can feel like one of the rich and famous – even if its only for a day. 
Saying that, its not expensive but just that little bit special. You can have single or double sunbeds with extra thick mattresses with towels and parasols. The price of the sunbeds is a little more than the ones on the beach but considering the extra luxury, its well worth it, especially if you've managed to get a child free day! Waiter service is included so you can either ring a bell or attract the waiters attention and he will bring you a drink of your choice.


The Gran Canaria Beach Clubs are at:


La Mar Beach club, Puerto Rico, just off Puerto Rico beach. This has only just opened and I haven't been to the restaurant yet. But it all looks lovely and somewhere where you can watch the sea and all the usual beach activities but feel a little separated from it all. Towels are provided and you can use the restaurant even if you are not renting the sunbeds
---
Maroa Club de Mar: Take the ferry from Arguineguin or Puerto Rico and the beach club is just there on the Anfi heart-shaped island. You can have a large sunbed with the obligatory cushions or even four poster type sunbeds with curtains for a little bit of privacy. Although the sea is close by you need to leave the club area to reach it. Lovely restaurant there as well so you can spend all day there and drink and eat until you stagger onto the last ferry home. Check time table with the Captain. This isn't restricted to ferry times though. You can spend the evening there too and take a taxi home.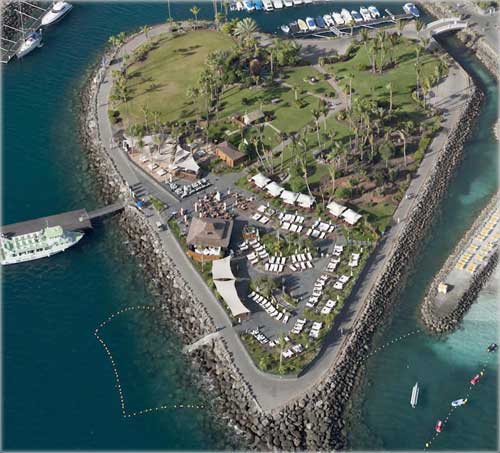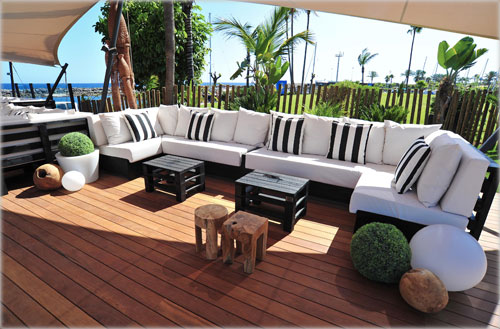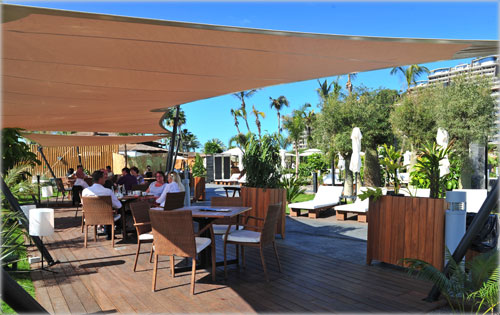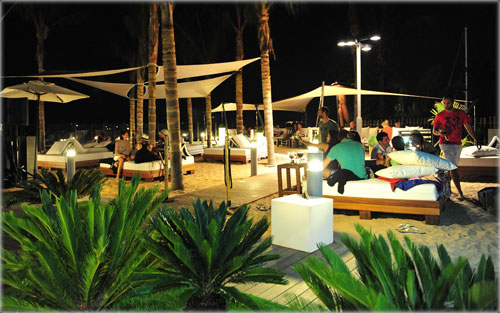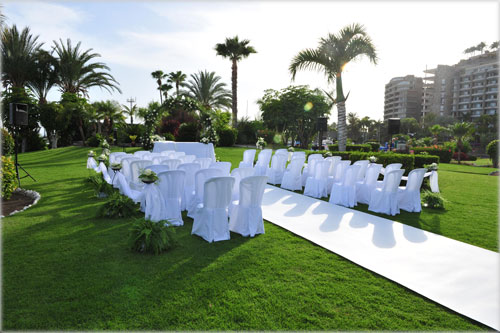 The timetable of the Maroa Club de Mar Gran Canaria beach club is as follows:
Solarium: Here, you can choose between individual or double loungers, and big Bali-style beds. You can go to the beach directly from here. Showers and misting stations are available. Open from 9.00 to 19.00 hours.

Food: Two sea-view dining rooms, with misting stations.
- Breakfast: 9.00-12.00 hours
- Snacks in the Barbecue terrace: 9.00-17.00 hours
- Restaurant in the Barbecue dining room: 18.00-23.00 hours

Chill Out: Different areas with sofas, beds, and loungers, all Bali-style on top of wooden platforms. There is an area with sand too. Every weekend there is live Chill out music. 12.00 - 02.00 hours

Events: They have a special department to organize all kinds of private or public celebrations such as weddings, cocktail partys, dinners, meetings, etc.

Of all the Gran Canaria beach clubs, this is one is top class. This is the only club in Anfi that welcomes everyone, unlike others that are for members or guests of a particular resort only.
---
| | |
| --- | --- |
| | Amadores Beach Club: It has a Chillax bar where you can watch the sunset towards Tenerife. It also has large sofas with a Thai beach theme. You can have cocktails and there is a restaurant serving great food. This is very relaxed so don't be in a hurry. During the day the sunbeds area, towels and parasols are included in the price of the sunbed.  |
Also, they have a massage area just for that little extra for that extra special day.
It is open 365 days a year, and here are the opening hours:
- Restaurant: 13.00-23.00
- Drinks available from 12.00-24.00
- Snacks available from 11.00-17.00
- The solarium is open from 9.30-18.00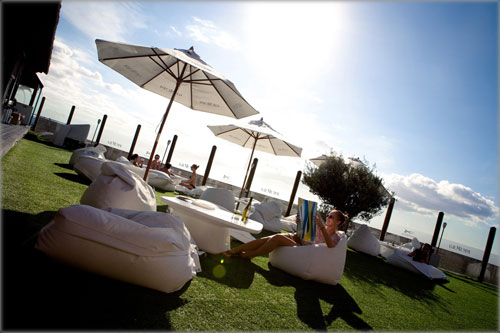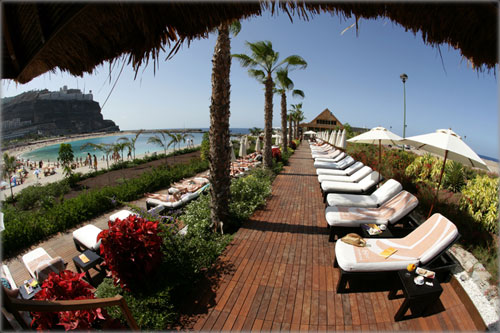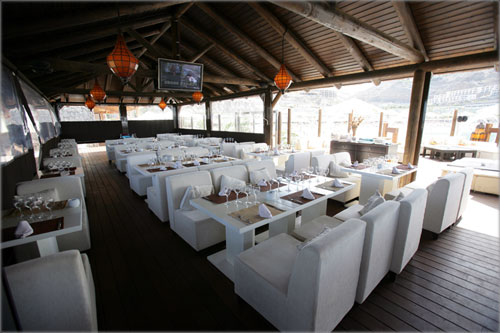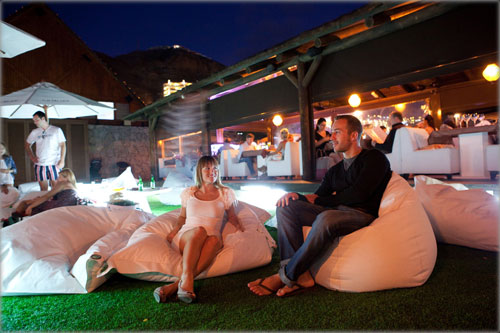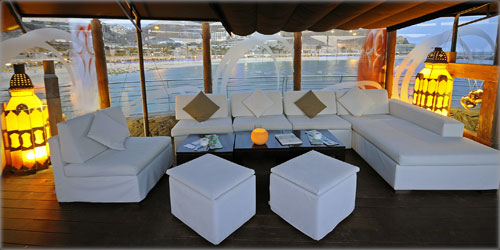 ---
| | |
| --- | --- |
| | One more place, that I know of, although its not in the Puerto Rico area is the San Agustin Beach Club. You can access this from the beach. There is a buzzer for the pool bar on the gate. You can also access this via the hotel as well. This is a lovely pool area with sunbeds, etc. and of course, waiter service. Visitors from outside this hotel are welcome, and have to pay only ten Euros.  |
The beach at San Agustin can be windy but this pool area has glass panels around it, so you can sunbathe protected from the wind but see through to the beach, sea and beyond.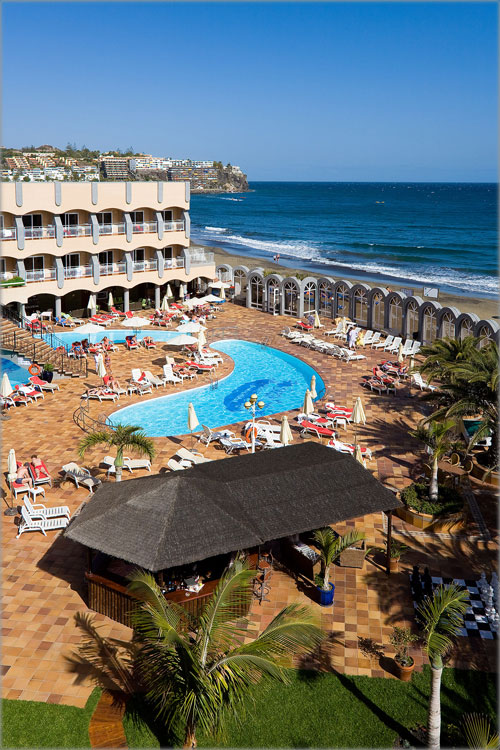 This one of Gran Canaria Beach clubs has great food. Click here to check the restaurant menu and prices out. Click here to see the poolbar menu and prices. (Both menus open in a new window)
Return from Gran Canaria Beach Clubs to Home Page