Best Maspalomas Gran Canaria Hotels: Where to Stay


Maspalomas Gran Canaria hotels and Meloneras area hotels provide the best stay for your Gran Canaria trip. Maspalomas is mainly a tourist town, which is why the best hotels are located either in Maspalomas or Meloneras areas. Both are located on the southernmost tip of the island. Maspalomas is a lot like Palm Beach, Florida, or Palm Springs, California in terms of infrastructure and entertainment, because in both places you will be able to enjoy casinos, shopping centres, golf courses, sports centres, and theme parks. Twelve hotels are recommended in the area of Maspalomas and Meloneras. They are recommended by Tripadvisor tourists who have visited the island for a variety of reasons including friendliness of the staff and relaxation.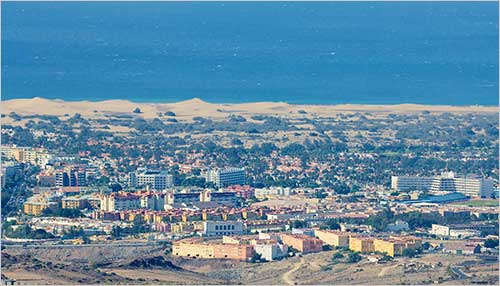 A view of Maspalomas, with all the hotels and apartments
Seaside Hotels, a German company, has two of the best Maspalomas Gran Canaria hotels:
Maspalomas Gran Canaria Hotels: Seaside Hotels Group 
- Seaside Grand Hotel Residencia
The number one feature of Seaside Grand Hotel Residencia, are the beautiful gardens and flowers. Fresh roses are put in the rooms, every day. It is a high class establishment where you can relax, especially because it is an adults-only hotel, and there are no screaming children running around. Whether you want local cuisine close to the beach, or a hotel restaurant with fabulous food, you will find it here. The hotel is kept spotlessly clean and well maintained, and the staff members are polite and friendly. It is one of the best Maspalomas Gran Canaria hotels. Book now

- Seaside Palm Beach
Seaside Palm Beach is a family hotel. Luckily, there is a separation with the pools providing an adult only area should you come as a couple instead of as a family. Good service, professional management, and a nightly turn-down service (this is when the maid comes in your room and turns down the bedcovers) are a few amenities here. The rooms offer pool or beach views. The beach is less than 100 metres away. Rooms are designated into categories such as a "C category room" with a beach view, but smaller square footage. Even the bathroom is small, but the shower has a good spray. Of course, the sizing makes little difference for those who want to be outside enjoying Gran Canaria. Book now

Lopesan Hotels
Lopesan, a Canarian company, owns and operates four of the top  Maspalomas Gran Canaria hotels:

- Lopesan Baobab Resort
The five star Lopesan Baobab Resort boasts an African theme. There are several forested swimming pools, which one might want to patrol for native wildlife.  Great service and excellent views make this a great place for families to stay. The buffet food service offers many different choices every night. Some rooms offer private balconies, while all provide shower-tub combos. For those hoping to get a perfect tan, there are sun beds aplenty to while away the hours. After relaxing in the sun and surf, have a marvelous evening with the hotel's nightly entertainment. Book now

- Lopesan Villa del Conde Resort & Thalasso
Couples and families find the right blend when they stay at Lopesan Villa del Conde. This hotel's architecture is Canarian style, and also has a small reproduction of the Aguimes village church inside its premises. Roomy swimming pools allow for adults with children to engage in splashing. Another pool has a tranquil setting for adults. Guests that love to swim in the ocean, but don't like feeling sand between their toes, have a salt water pool. Kids even get a sandy beach pool to build sand castles.
While there isn't much nightlife for teens, adults enjoy pampering and relaxation. Buffet steamers provide excellent cuisine for the pickiest of eaters, with freshly prepared breakfast items for those who want them. There are many areas to explore in this well designed hotel which boasts five stars. Book now

- Lopesan Costa Meloneras Resort, Spa and Casino
Lopesan offers more than one location in Meloneras. The Lopesan Costa Resort, Spa, and Casino is a massive hotel. It is in such a popular location, that visitors tend to return year after year for the casino attractions. Several outdoor pools, including at least one with a sea view, add to the amenities. At check-in expect to be greeted immediately. Buffet choices await the indecisive guest for breakfast, lunch, and dinner or if you know exactly what you want order off the menu. You may find the Wi-Fi a little lacking, unless it has been upgraded recently. If you book early, you can get bargains for as low as 99 euros (85 pounds) for a double room

- Ifa Faro Hotel
Location of the Ifa Faro Hotel is the best on Gran Canaria. You can look at the sea and dunes or walk to the many shops. If you hate jostling for a sun bed, this won't be a problem at Ifa Faro where they are reserved for each guest. A heated pool makes it a perfect choice for any weather, except rain of course. The Maspalomas lighthouse can be seen from rooms with a side view of the sea.
Couples will probably fare better at this destination as the bathroom is rather small and lacks a bit of privacy. There is an extensive use of frosted glass for the toilet and shower doors. Buffet breakfast is exceptionally good with a wide selection of different cuisines. Book now


Maspalomas Gran Canaria Hotels: Riu Group
Riu, which is a Spanish hotel group based in Mallorca (Balearic Islands), has two great Maspalomas Gran Canaria hotels:

- Riu Palace Meloneras Resort
Riu Palace Meloneras Resort offers a quiet stay for couples. It is not an adult-only hotel, but it seems mostly couples on second honeymoons and anniversaries stay here. This is an older Riu hotel in the chain, so there are certain outdated issues, but the grounds and rooms are clean. A stay here is mostly self-sufficient with the amenities you need. A restaurant, bar, and pool provide relaxation. You might consider booking a room, if you want to be out and about in Gran Canaria versus pampered at your hotel. Book now
- Riu Clubhotel Gran Canaria
The Riu Clubhotel Gran Canaria is just one of the hotels in the Riu chain. Pampering, cleanliness and friendly staff are their hallmark. The hotel has undergone a thorough refurbishment to ensure that guests continue to enjoy all the amenities they are famous for. Click here to check out what they've done to the hotel

Large bathrooms are a plus and the bedrooms are equally spacious. You can get views of the garden from many of the rooms. Families and couples make up the bulk of the guests. The location is ideal for sightseeing, which is a winning combination along with being pampered. Check with your travel adviser for a relaxing vacation. For an all inclusive double room, click here to book now

The video below was taken by our friend from Finland who stayed at the hotel in February 2015.
Other nice Maspalomas Gran Canaria hotels from a variety of hotel groups are:
- Palm Oasis
Although we have included this resort in the Maspalomas Gran Canaria hotels section, it is actually a holiday spot with 234 apartments.

The top of the hill provides awesome views when staying at Palm Oasis. Guests can have a brilliant sunrise scene or a romantic sunset room. While about 3 kilometers (2 miles) from the coast, getting there is easy as taxis are always available. There is a grocery store on site, which is great if you have booked a room with a small kitchen.
If you book a T-1 or T-2 apartment that overlooks the pool, the Maspalomas dunes are a pleasing sight. Lush greenery surrounds the hotel, making it a calming, relaxing setting. Looking for absolute pampering? Ask for a roof-top terrace room which is perfect for a romantic getaway. Book now

- Dunas Suites and Villas Resort
Dunas Suites and Villas Resort can only be described as a family hotel. If you want to spend a week or two with your children, brothers, sisters, aunts, and uncles, this is the place. The suites are laid out well for large families although each bathroom is on the smaller side. Rooms are not beachside, as that is 800 meters down the road, yet you have plenty of food, drink locations, and entertainment close by for the adults. A small downside for the tech savvy kid- spotty Wi-Fi reception, as it is best outdoors rather than in the room. Click here to see the deals for a half-board suite
- H10 Playa Meloneras Palace
H10 Playa Meloneras Palace Hotel is definitely palatial with its acres of land and building. In this huge hotel resort, you have every accommodation, from a spa and pool area to nightly entertainment. If stairs are a bit of an issue, you don't have to be concerned as they have an elevator. This hotel is modern in function and looks, with a planetarium close to the restaurant serving buffet style. If you get lucky a view of the sea from your room is possible. The rooms have different set ups, but they all have en-suite bathrooms with a tub/shower combination. Book now

- Tabaiba Princess
Plenty of different choices in cuisine are, perhaps, one way to describe Tabaiba Princess hotel. Pizza, burgers, hot dogs, and plenty of snacks are available whenever you want to eat. A slight downside is the brick like pillows on an otherwise okay bed. When staying in Gran Canaria the focus should be on things to do like swimming, touring the shops, and going on little adventure trips. It might not be the busiest hotel, but that is just fine for anyone who wants to relax. It is not a five star for pampering either, but comfort and plenty of space will greet you. The Tabaiba Princess has received four points out of five on the Tripadvisor website.
We hope we have helped you choose from all these great Maspalomas Gran Canaria hotels. They are all based in the best area of Gran Canaria and we highly recommend it.
Return from Maspalomas Gran Canaria hotels to Gran Canaria Hotels
Return from Maspalomas Gran Canaria hotels to Home Page