Gran Canaria Spas


The best Gran Canaria Spas are conveniently located inside or besides four and five star hotels. There are over a dozen of them, and we have chosen the best. Rates are reasonable and there are treatments that fit all budgets. Most spas give discounts to their hotel guests, and also welcome visitors from outside their hotels.
Gloria Palace Group
Gloria Palace has 3 hotels in its group all with various spas and gyms.


Gloria Palace San Agustin Thalaso & Hotel is located in San Agustin, and has a massive 7000m2 for spa facilities and relaxation. It has four seawater pools which include a dynamic pool, gym pool, and a "Get in Shape Pool, " which is a pool where one can pass through a circuit of 33 different hydromassage points. This Spa was the first of the Gran Canaria spas that used seawater for its therapeutic properties, and is the largest thalassotherapy centre of its kind in Europe. It has been used as a model for other developments. It has a gym, a beauty salon, and a sauna. Treatments for rheumatic-related, post-traumatic , and stress problems are available in this spa. They even take care of your children while you are in the spa. (Update: This hotel and spa have been completely renovated in June 2012)

Opening hours: Daily from 10.00 – 21.00 hours


Gloria Palace Amadores Thalasso & Hotel, is located between the beaches of Amadores and Puerto Rico, and has about 1800m2 of spa area, which includes a pool, gym and a 'Get In Shape' pool. There is also a gym and a beauty salon. This Spa specializes in treatments for rheumatic conditions and stress-related problems.

Opening hours: Daily from 10.00 – 21.00 hours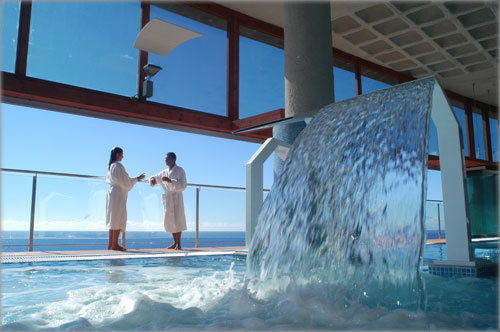 Gloria Palace Royal Hotel & Spa has views over Playa de Amadores. In this hotel you find an elegant spa center called "Wellness & Spa Royal." Around the pool are bubble loungers and massage areas along with Turkish baths and dry saunas. There is even a Scottish shower, which is a shower where hot and cold water alternate. If you stay in this hotel, you will have free access to the hydromassage pool, sauna, Scottish shower, Turkish bath, and the gym.


Next to the Spa, you will find the 5 beauty treatment rooms, where you can have your hair, nails, and feet done, besides other relaxation, massage, and anti-aging treatments, including raindrop therapy, which cleanses the body through the application of essential oils along the spine and feet.
Click here to read their brochure and rates. (Opens in a new window).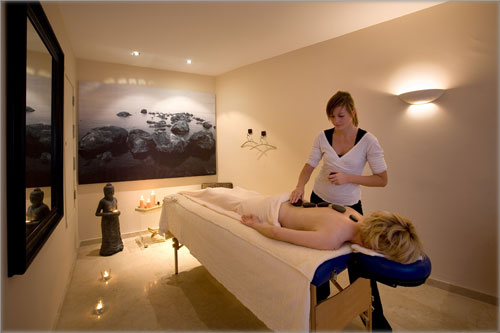 Hotel Bohemia Suites & Spa Gran Canaria
This brand new five star hotel located in Playa del Ingles has one of the best Gran Canaria spas, called "Siam Spa." It is about 600 m2. You can take a Hamam, which is a Turkish bath that helps relax and cleanse the body by first staying in a warm room with hot dry air, then splashing with cold water, then washing the body. After that a massage is given and the person goes to the cooling-room to relax. Below is a photo of the Hamam.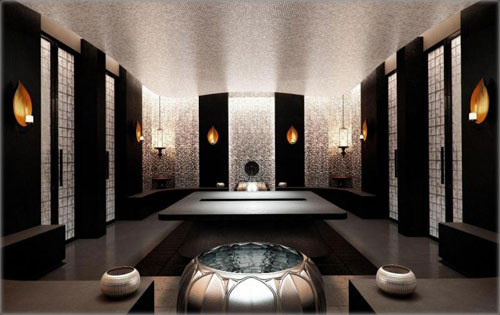 Besides this, you can have a Thai massage from Thai professionals. There are also beauty treatments available. If you really want to relax you can take some yoga, tai chi, or Pilates classes.

The separate wellness area is equipped with 4 outdoor relax pools, state of the art fitness area, 2 saunas ( dry & Finnish), steam bath, and an ice shower. In the photo above, you can see the reception area of the wellness section.

Click here to check out their Siam Spa treatments. (Opens in a new window).
Lopesan Group Gran Canaria Spas

The Lopesan group has two of the most impressive Gran Canaria Spas: the Corallium Spa based in the Costa Meloneras Hotel, and the Thalaso in the Villa del Conde. The Villa del Conde seems to offer more, although friends have been to the Costa Meloneras and have raved about the route between rooms and pools. 

Corallium Spa Costa Meloneras is right on the coastline, so the relaxation areas have fantastic views of the ocean. There are 3,500m2 of Spa and facilities. You start off in the salt cave, then move to the cold water pool, and then relax in the warm lagoon. After this, there is an aqua dome where you experience a tropical rain forest with a storm and waterfall. If you don't feel quite relaxed enough, then you can have a hamman sauna or even try a flotation pool. If all this relaxing isn't for you, then you can try the fitness centre: 800 m2 of running machines, cardio vascular equipment, etc.
Just nearby is the Villa del Conde, another hotel of the Lopesan group with Thalasoterapia. The Thalaso experience is a circuit using seawater at different temperatures. Each area is either warm, hot or cold and helps muscle stimulation and increases circulation. Again, we have hydrotherapy pools, steam rooms, steam baths, adventure showers and ice rooms. The gym here is smaller at 90 m2 though, maybe because you have so much to do in the relaxing areas!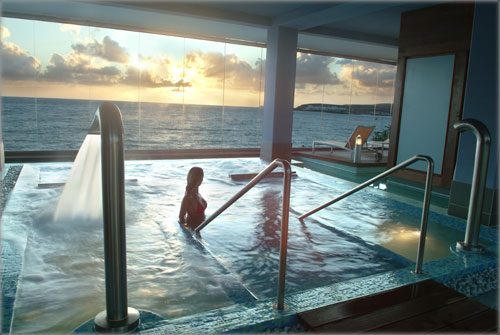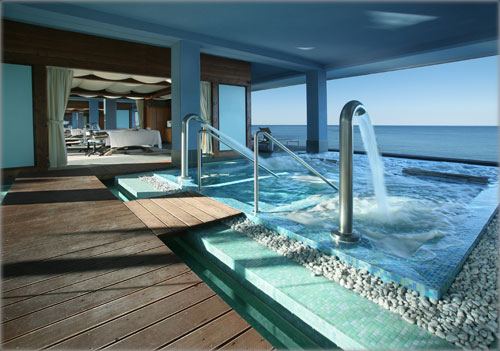 Salobre Sheraton Hotel Spa

The Sheraton Salobre Hotel is based inland surrounded by the mountains with views across the greens of Salobre Golf. One of its therapies is "Wine therapy". Now I'm assuming that this is some kind of mixture applied to your body, rather than copious amounts of wine to be drunk, but it did tweak my interest. 
It also has a relaxation area to enjoy the views over the mountains and beyond and once you have soaked up the wine and the view then you can use the ice room to really open up (or is it close?) those pores.
Return from Gran Canaria Spas to Home Page