Gran Canaria Water Parks: Aqualand and Lago Taurito Oasis


There are two Gran Canaria water parks: one large one located in Maspalomas (Aqualand), and the other one smaller, less well known one (Lago Taurito) located further south, near Puerto Rico. Both are open all year round, and usually add new attractions almost every year. You can easily spend half a day there.
Gran Canaria Water Parks: Aqualand
Aqualand (which is sometimes known as AquaSur) is in Maspalomas. It has the wave pool and lazy river for those, like myself, who just need somewhere to cool off between sunbathing and reading. Otherwise to keep the kids and Dad quiet there are 17 'rides' to choose from. In 2014, they have added additional water slides, called the "Turbo Twin Turbolance". You can see this new attraction in the beginning of the following video (it is the slide with the green stripes):
There are daily shows of high divers who jump from a height into a pool. Click here to see the full map of the facilities (updated May 2022) (opens in a new window).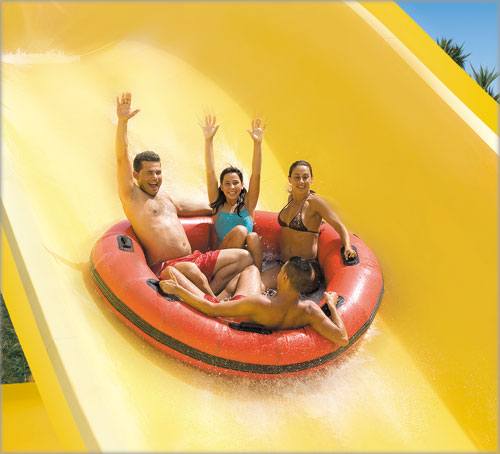 The queues can get quite long in the summer months so you are advised to get there as early as possible. It opens at 10am and the last ride shuts at 5.30 in the summer (July & August), and at 4.30 the rest of the year. It is open all 7 days of the week. If you get your tickets online, you will get a discount. Click here to check out the online prices (opens a new window).
One main thing to remember though is high factor suncream, especially on the tops of your feet and shoulders. A day at the water park can be spoilt by bad sunburn. This park is open all year although it can be a bit chilly in the winter as the water isn't heated. This water park has a souvenir shop as well as a restaurant. It also has a mini golf for those who don't want to get wet.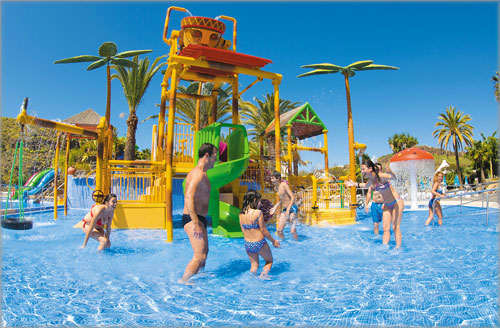 An additional attraction are the sea lions. They have two shows a day where you can watch them being fed. There is also a sea lion experience where you can get up close and personal with a whiskery friend, and swim with them. The price of this isn't included in the water park entry price. To reserve for this, one must notify the staff once you are inside, or phone the day before going (+34 928140525). Each show is for groups of twenty people.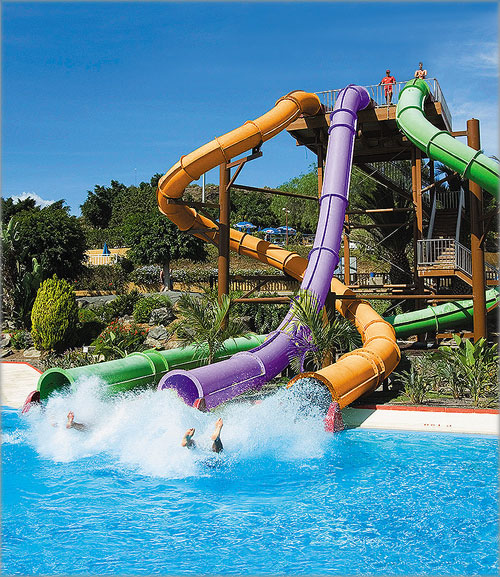 How to get there:
- By car: There is plenty of free parking spaces
- By taxi: Anywhere from Maspalomas or Playa del Ingles costs about 5 euros.
- By bus:
- GPS Location: 27º46'43"N 15º36'21"W
- Address:
Ctra. Palmitos Park, Km 3
35100 Maspalomas Gran Canaria

Gran Canaria Water Parks: Lago Taurito


The second one of the Gran Canaria water parks is Lago Taurito Oasis or Taurito Pools and is located in the valley of Taurito. Entrance for this is reduced (and in some cases free) if you are staying in one the hotels in Taurito (like the Paradise Lago Taurito hotel, where the park is located), but the public can use it as well. It has a couple of slides to keep the family busy, 

but is a much more relaxed type of water park, more of a sequence of pools with some slides as well. This water park has the largest (1350m2) salt water pool of Gran Canaria.
Lago Taurito Oasis Video



Taurito is quite a good place for a day out too because, as well as the pool, there is a 9 hole mini golf, bowling, tennis courts, restaurants, and a few shops.
Brucks is a huggable, lovable tiger who lives in Lago Taurito Oasis. He is the favourite mascot of all those who visit the Gran Canaria water parks.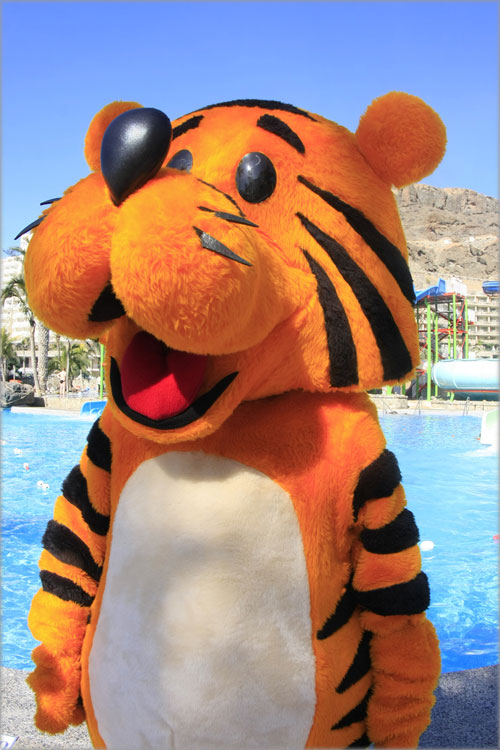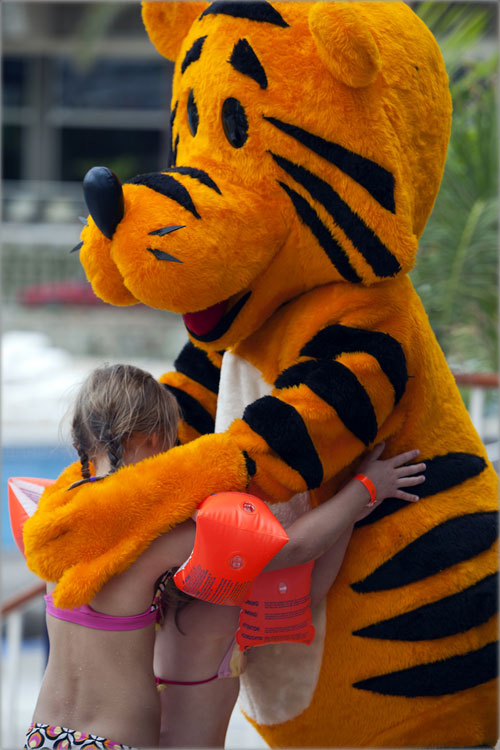 How to get there:
- By car: There is an underground car park

- By bus:
- By taxi: From Puerto de Mogan taxi costs about 10€

- GPS Location: 27º48'57.36"N, 15º45'07.3"W

Address:
Urbanización Taurito s/n
35138 Mogán - Gran Canaria
Telephone: +34 928 565 426 (and yes! they speak English, and German)
Opening Hours:
This park is open 365 days a year, from 10:00 until 18:00

Lago Taurito Ticket Prices

Only tickets:

5 Euros - Per child (3-11 years old)
12 Euros - Adults and children over 11 years old
Price with Buffet lunch:
12 Euros - Children (3-11 years old)
20 Euros - Children over 11 years and adults
Special rates apply to groups over 20 people.
We're sure that you will enjoy your day at any of these Gran Canaria water parks. Let us know your experience!
Return from Gran Canaria Water Parks to Home Page