Contact Us

My name is Sunny. I was born in Gran Canaria and set up this website to show everyone how nice Gran Canaria is. I work in a wholesale computer wholesale business in Las Palmas de Gran Canaria during the day time and love to give helpful advice about Gran Canaria to everyone who wants to visit.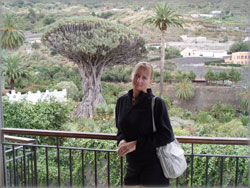 Mary Beresford-Jones helps me with the website. She moved to Gran Canaria with her husband and son in 2003, where they had spent many holidays over the years. They opened the in 2004. Mary loves her island and wants others to appreciate all that it can offer. She is an expert in all that goes on in southern Gran Canaria, and is also a destination expert for the Tripadvisor website. Update: Mary has moved back to the UK.

Nacho Bautista is a local Gran Canarian who helps me out with articles about the beaches. He is a journalist during the daytime. The rest of the time he is at the beach.

Ramon is our photographer. He is a Gran Canarian who during the day is a butcher at the local supermarket and in his free time takes great pictures of Gran Canaria.
We're constantly updating our site and adding new content. We would love to hear from our website visitors. Want to contact us for any queries about Gran Canaria? Need help planning your trip? Want to share an outstanding experience? Any suggestions to improve our website? Any great restaurants or hotels we have missed out? You can fill out this handy form and we will get back to you within 48 hours.


Return from Contact Us to Gran Canaria Beaches