Gran Canaria Excursions: What to See


You can try the many Gran Canaria excursions which you will be offered,if you want to do something more than just sit around in the sun. There are various Gran Canaria excursions by coach, that will take you to various parts of the island. Take a browse through and see which one appeals to you. Personally, I would prefer lots of stops and little driving whilst others may prefer to sit on a coach and be whisked around all the sights to see.
Guayadeque caves is one of the most popular Gran Canaria excursions. This takes you to the traditional cave houses of Guayadeque and to a cave restaurant where you can enjoy a traditional tapas meal. There is a company that will take you on this trip, but will include a sales pitch of about an hour for lambswool blankets and mattress covers. This trip is free and for the sake of the hour, well worth it. If you prefer to avoid the sales pitch, then there are other companies who provide it, but not for free!


Another one of the Gran Canaria excursions, and one I recommend, is a coach trip would include going to the centre of the island to Tejeda, with short stops at a lot of villages along the way. Roque Nublo is a rock formed from volcanic eruption 4.5 million years ago. It is 80m high and is 1813m above sea level. It is believed that the guanches (original inhabitants) worshipped this rock and it is seen as a magical and romantic spot for couples to watch the sunset. Its about a 30 minute walk from the car park just outside Tejeda.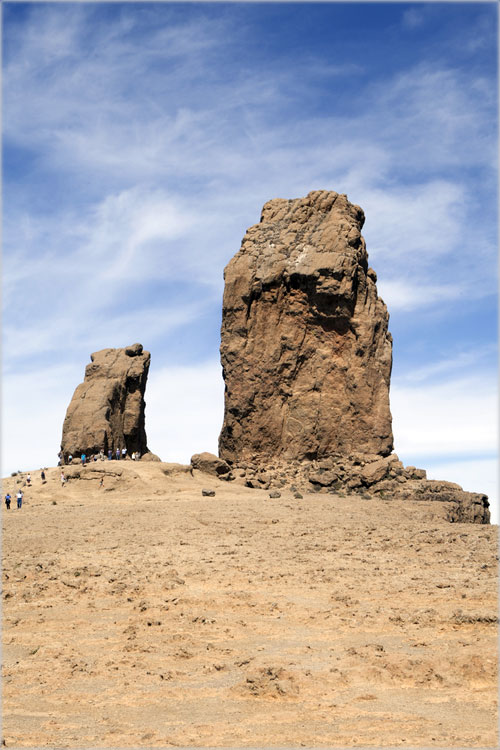 In the picture below, you can see the Roque Nublo monolith, from the Pico de las Nieves, which is the tallest peak on the island (1949m).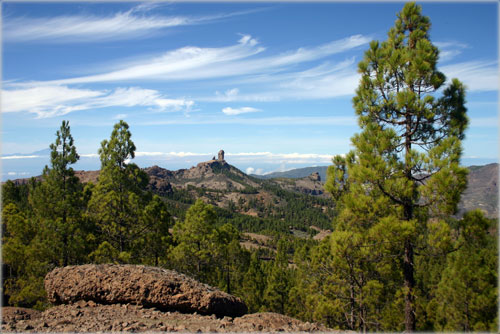 One very clear days, you can see the Teide mountain on the neighbouring island of Tenerife, as seen in the photo below.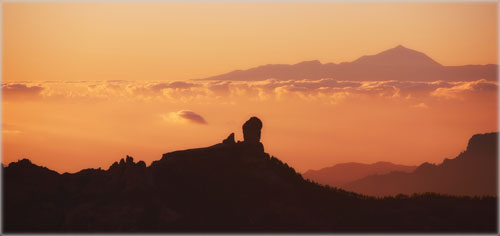 You can get a trip to take you to Las Palmas that takes in the old town (known as "Vegueta"), with its Romeo and Juliet balconies (very romantic) and its cobbled streets and then along to El Muelle, which is a big shopping mall based in the main port of Las Palmas. A lot of the big cruise ships moor up here, so you might spot one of those too. Las Palmas shops tend to shut between 1-4 for siesta so make sure your shopping trip takes that into account. There isn't any point in wandering around the old town looking for somewhere to shop and everything is shut. El Muelle is open all day.
While you're at the capital, you can also go for the guided tours on foot, organized by Trip Gran Canaria. They start out at 10 Euros for a one and a half hour tour of Vegueta with an English speaking guide. For more information, click here to go to their website (opens in a new window). They are very keen and helpful, and will also organize tours to other areas for you. If you are there in the evenings, check out their Canarian food tour, where they take you to different bars to taste delicious Canarian food. Here's a photo of their office in Vegueta: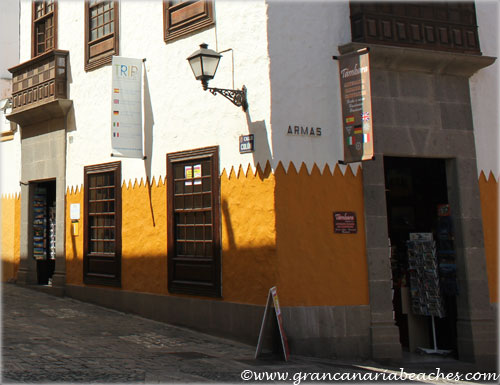 If you can, then hire a car. Take note of a few places and plan your route. This way you can find a tapas bar along the road side and while away the afternoon, watching the world go by without someone (apart from your partner) telling to come along as the pool is calling you.
My favourite of all the Gran Canaria excursions, or where I take any visitors I may have, is Fataga. The drive to Fataga takes you up the crest of a valley, high up into the mountains. The roads are very wiggly and take care as you may encounter a bus or coach coming the other way. Lots of tooting of horns at corners seems to keep everyone safe. Once you get to Fataga there are a few tapas bars to have a drink etc and its also very peaceful just to wander around. Our favourite tapas is Albaricoque. Walk through the restaurant and they have a lovely little terrace at the back. Little water fountain, rustic tables and a view down the valley. Just beyond Fataga is Molino del Agua – Water Mill. This is a Hotel rural which has had a lot of refurbishment recently. They have rooms to rent but I have only been for the day. They have a barbeque going all day, so if you like meat, then you'll be in for a treat. The lamb or goat are lovely if you're feeling adventurous. Then just by the restaurant is a pool so you can take your after lunch coffee and soak away before the drive back down the mountain.


For those who don't want to go so far, and who don't want to spend the whole day with the Gran Canaria excursions coach group, we take them to Soria. We start off in El Pajar which is just beyond Arguineguin and take the road towards Cercado del Espino. Again, more tapas places or even, if you've brought a picnic, then you can stop along the way. Just to Cercados is sometimes enough to get a feel for the island. Look out for El Mato tapas on your right as you get to the village. The owner has a lovely restaurant there. He has tables outside in his driveway (very local!). He seems to speak every language you can think of and his tapas menu is just that little bit different. I often imagine I can see those Indians from the Spaghetti Westerns coming up over the brow of the mountains as you drive along this valley. If you carry on up the road, it gets wiggly but carry on and you'll reach Soria. This is one of the reservoirs. Just by the track to walk to the reservoir is another tapas place. I don't remember the name but a good place to stop for a drink and a bite to eat. Afterwards, walk under the barrier and wander down to the reservoir. It's a nice place for a walk and somewhere where you can see greenery! In the winter, if its been raining then you can find some great waterfalls and the rainwater comes down the mountain. But be careful; our roads aren't used to a lot of rain and so can be slippery.


We hope you enjoy your Gran Canaria excursions.
Return from Gran Canaria Excursions to Home Page