Meloneras Beach in Maspalomas, Gran Canaria


The Meloneras beach is another one of those places that offers tourists and local users an unforgettable atmosphere. It is located in the south of the island of Gran Canaria, within the municipality of San Bartolomé de Tirajana. To go to this beach you can go walking, if you are staying in a hotel near it, or by car. Cars can be parked a few meters from where the beach starts. You can also go by bus or taxi.

It is surrounded by the finest resorts of Gran Canaria, which gives this beach a greater status and value by tourists who visit it. To the west we find the unique marina of Pasito Blanco, which is a meeting place for those who love sailing. To the northwest, you can relax by spending a sports day in Golf Meloneras. For the most demanding sports fans, we have a more than 1800 meter long promenade that joins this beach with the Maspalomas lighthouse on the east.

The vast amount of services offered by this heavenly place is highlighted by the Blue Flag, an award that puts this beach among the best on the island. Among the services that we can find, is a choice of restaurants on the waterfront, with lots of flavors that transport us to faraway places. This beach is an ideal place for families with children, both for its beauty and for their safety. For the romantic couples, walks along the promenade and the magnificent sunsets make this place unique.

Meloneras Beach Facilities
Like all eleven beaches and two marinas that have the Blue Flag award, this beach has a wide variety of customer care services such as the hire of loungers and umbrellas for protection from the sun, showers to end the day of rest feeling fresh, and four access ramps to the beach, that can be used by people with disabilities.
You can have a beer, or even dinner, in the restaurants all along, and then watch the sunset!
The more than three hundred meter long beach of Meloneras offers an unforgettable sight to tourists. The sand has a dark blonde color, which is typical in the southwest of Gran Canaria. One can sunbathe on it and take advantage of its healthy properties, and then go for a dip in the refreshing and rejuvenating waters. Despite being sheltered from the currents from the north, this beach can have bouts of strong waves, so you should pay attention to the recommendations of the lifeguards who will hang a green, yellow or red flag, depending on the current state of the sea.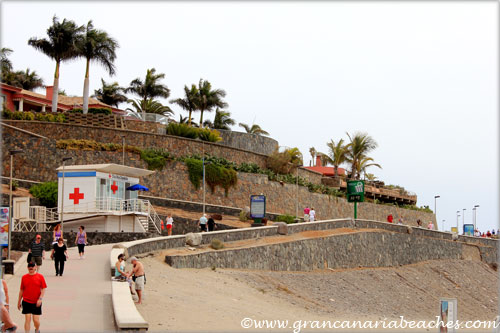 Return from Meloneras Beach to Gran Canaria Beaches
Return from Meloneras Beach to Home Page