Gran Canaria Buses: Fast, Efficient, and Safe


Moving around in Gran Canaria buses is cheap, safe, and fun! I do it all the time. You don't have to worry about parking or getting lost (and if you do, it doesn't matter because there is generally a bus stop to go in the opposite direction nearby). Drivers and passengers are friendly and are always willing to help tourists visiting the island, so don't be shy. 
There are three kinds of public Gran Canaria buses, each painted differently. The teal-coloured ones cover the routes from one town to another. The yellow ones only operate inside the capital, Las Palmas. The red, open-top ones are meant for tourists, pick them up near the harbour, and take them around the capital city. Some small towns also have their own buses but only operate a few routes near and around those towns.

"Global" or the Blue Gran Canaria Buses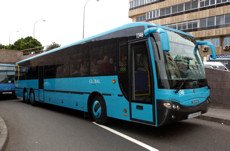 These Gran Canaria buses go from various towns of the island to the capital, Las Palmas de Gran Canaria. Some of them also go from small towns to other towns.
The ticket cost will depend on where you get off (tell the driver). It is rare to stand on this bus, except for a few days in the summer. These buses are very punctual, and I highly recommend them.
How to get from Puerto Rico to Las Palmas: Take bus line 91. Trip lasts about an hour and costs 7.20 euros per person.
How to get from Maspalomas or Playa del Ingles to Las Palmas: Take bus line 30. Trip lasts about an hour and it leaves every twenty minutes. Here are the ticket costs:
Maspalomas – Las Palmas de G.C. (San Telmo): 5.85 euros per person
Maspalomas – Las Palmas de G.C. (Santa Catalina): 6.45 euros per person
Playa del Ingles - Las Palmas de G.C. (San Telmo): 5.30 euros per person
Playa del Ingles - Las Palmas de G.C. (Santa Catalina): 5.95 euros per person
From Maspalomas to Las Palmas de G.C. (San Telmo) you can also take bus number 05 which makes very few stops and gets you there very fast.
Here are the buses you can take from the airport:
Line 66 - Airport – Maspalomas lighthouse: 3.85 euros per person
This bus is once an hour (twenty past the hour), and if you don't want to wait, you may consider walking up to the motorway and catching line number 30 which is more frequent.
Once you are at the main underground bus station (San Telmo) , you can switch buses to go to El Corte Ingles or Las Arenas shopping centre. Usually, tourist guides and guidebooks will tell you to leave the underground bus station and catch the yellow buses upstairs, but I recommend staying underground and catching another Global bus. You can take any of the following Global buses, and remember to sit near the driver so he can tell you where to get off 103, 105, 116, 117, 206, and 210. It is a 10-15 minute journey and we don't want you landing in a village far away.
Many people who arrive from the southern part of the island, prefer to get off at the Teatro bus stop. It is conveniently located. You hardly have to walk if you want to get a taxi or transfer to a yellow bus.
For updated information about the "Global" bus lines, you can check out their website (in English, German, and Spanish).
"Guaguas Municipales" or the Yellow ones


These are the Las Palmas de Gran Canaria buses and only move around in the city. They are generally overcrowded (especially at peak hours) and you may have to go standing, but it doesn't really matter, as most trips don't last more than 20 minutes. Buses are of different sizes, depending on how popular the route is. Bus stops with big screens tell you when the next bus is due, across many parts of the capital.
A ticket costs 1.40 euros, and can be bought from the bus driver. It doesn't matter where you get off, it will always cost the same. Under 4-year-olds are free. If you want to save, you can buy a ten ticket card, which costs 8.50 euros, and is available at the San Telmo bus station, at the Santa Catalina park, and some newspaper shops. One card can be used for various people. The card can be used till the end of the year, which is when rates change (sometimes). This card is called "bono guagua." New machines that sell these cards have been put in all the bus terminals. Euro notes, as well as coins, are accepted. (Prices updated June 2014).
The website of "Guaguas Municipales,"  which means "municipal buses," has been thorougly renovated, and translated into English. There is a handy form on the top right corner that tells you which bus to catch, according to where you want to get in and get off. You can also top up your bus cards online, with your debit or credit card.
In this video, local celebrities encourage everyone to use public transportation:
The bus company shows how it has improved things in the last couple of years, in the video below. It's in Spanish but with English subtitles.

Tourist Sightseeing buses or the Red ones


The third kind of Gran Canaria buses, are the red double-decker open top ones. These are for tourists visiting the capital of Gran Canaria, and allow you to hop on and hop off during a 24 or 48 hour period once you buy a ticket. They are operated by Worldwide City Sightseeing, so you might have seen them in other cities. The complete trip lasts about 90 minutes, and shows you most of the important places in the city.
Here are the ticket costs:
- Adult: 18 euros
- Child (5-15yrs): 9 euros
- Adult 2 day: 22 euros
- Child 2 day: 11 euros
With every ticket, you get a pair of free earphones, so you can listen to details about each place you visit. The commentary can be listened to, in 8 different languages (English, Spanish, French, German, Italian, Japanese, Swedish, Norwegian).
Here are the bus stops for the red buses:
1) Parque Santa Catalina
2) El Corte Ingles
3) Pueblo Canario
4) Vegueta & the Cathedral
5) Teatro Perez Galdos
6) Main bus station (San Telmo)
7) Santa Catalina Harbour
8) Elder Museum in Santa Catalina park
9) Las Canteras beach
10) Paseo de la Cornisa
11) Auditorio Alfredo Kraus Concert Hall
First tour starts at 9:30 and the last one starts at 18:00. The frequency is every half hour. These tours are available all year round.
To buy tickets for the sightseeing bus, at a special discounted rate, plus discounts in shops and restaurants, click here
To read more about the City Sightseeing Las Palmas de Gran Canaria buses, download maps, leaflets, timetables click here to go to their website.
How to Use the Gran Canaria Public Buses

If you're visiting the island for the first time, there's no need to get a bus pass. Drivers accept cash. Try to have loose change, because they can refuse to change a big 20 euro note.
Getting In and Out
These instructions may seem common sense, but there are a few countries where people get in or out from any door.
Get in from the front door, and pay the driver, or tap the bus pass reader with your card.
To get off, ring the bell before your stop, and use the back door.
Gran Canaria Buses Hotline
If you have any questions about timetables or routes on the yellow or Global buses, you can dial the following number, and an English speaking operator will be happy to help you out.
+34 928 25 26 30
Gran Canaria Buses Updates
Starting on the 8th of February 2023 face masks are no longer needed in all public transport (buses and taxis)
Starting from this year (2023), residents who use the buses a certain number of times (15 rides every month), don't need to pay. At peak hours, buses can be crowded, due to high demand. 
Cash and cards are accepted
Most bus lines are operating just like pre-Covid