Casinos in Gran Canaria


There are three casinos in Gran Canaria. Two are located in the south of the island, and the other is located in the capital, Las Palmas de G.C. All of them require you to be over 18, and to provide either a national ID card (EU citizens), driver's license (EU citizens), or passport, to enter. Men wearing short pants aren't allowed in, but different casinos have slightly different rules, during different times of the day. In certain areas of the casinos, like where the sports betting machines are located, you will have to register your personal details the first time, and then after that, you will not be required to provide ID. 

Casinos in Gran Canaria in the South of the Island


Gran Casino Costa Meloneras is located within the Gran Hotel Costa Meloneras, in Maspalomas, right by the lighthouse (south of Gran Canaria). You can enter from the hotel or directly from the street. 70,000 people visit it every year. Locals as well as holidaymakers, mostly from central Europe, try their luck here.
Opening hours:

This casino is open every day of the year.
Slot machine room: 10.00 in the morning till 04.00 am in the winter or 5 in the summer.
Games room: 20.00 – 04.00 hours (winter, from Nov. to end of March)
                  21.00 - 05.00 hours (summer, from April to end of October)
Restaurant:  21.00 – 02.00 hours (International cuisine, click here to see the menu and prices )
Address: Gran Hotel Costa Meloneras
            Avenida Mar Mediterraneo 1
            Meloneras, Maspalomas, Gran Canaria
Telephone: +34 928 14 39 09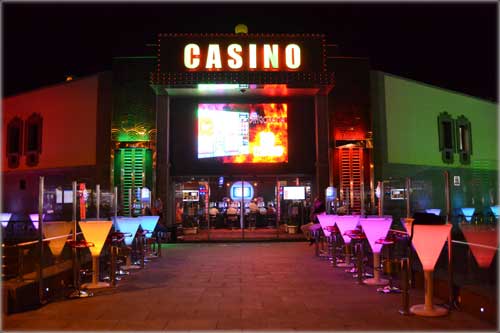 Entrance of the Gran Casino Costa Meloneras

These are the live games available in this casino:
Poker: You can choose between 5-card stud poker,  Texas Hold'em poker cash games or tournaments. We recommend the tournaments because, for a low buy-in fee e.g. 50 euros, you can win around 2000 euros in one day, or a bigger jackpot if you have the maximum amount of points at the end of the season. The amount of weaker players in tournaments is another reason why we recommend this type of poker, versus cash games, where you will see more professionals.
Texas Hold'em Poker tournaments are held every Friday and Sunday, and are very popular, with an average of 80-100 players participating. You can also partipate in the Canarias Poker Tour, where players travel to the neighbouring islands of Tenerife and Fuerteventura casinos. Check out their facebook page to see the latest photos of players and winners. (Opens in a new window)
Roulette: American roulette
Black Jack: Click here to learn how to play and win.

Live Games Room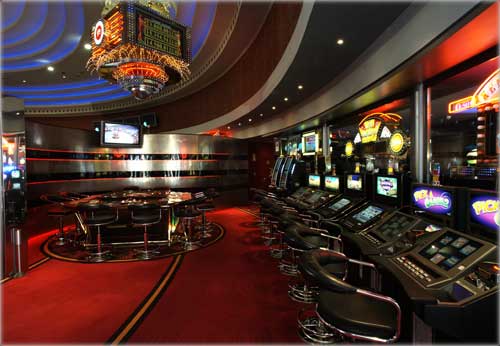 A view of the slot machines. They have 85 of them, so it is rare that you have to wait to use one.
---
Casino Gran Canaria is located in Playa del Ingles, inside aparthotel Mur Buenos Aires, in the south of the island. It was the first of the casinos in Gran Canaria, and opened over thirty years back. Originally, it was located in San Agustin, inside Hotel Melia Tamarindos. It moved to brand new facilities in 2013. This is the address:
Avda. Alfereces Provisionales, 27 
Playa del Ingles 35100
Telephone: +34 928 76 27 24
---

Casinos in Gran Canaria in the Northeast of the Island
Casino Las Palmas, is located right next to Parque Santa Catalina (in the capital Las Palmas de Gran Canaria), and its new facilities were inaugurated at the end of 2010.  
Opening hours:
This casino is open all the days of the year.

Live games room: 17:00 to 04:00 every day of the week.
Slot Machines:     12:00 noon till 04:00 a.m. 
Entrance ticket fee: 3 Euros.
Address:
Casino Las Palmas - It has two entrances

C/ Simon Bolivar 3 and C/ Leon y Castillo 324-326
Las Palmas de Gran Canaria
Telephone: +34 928 234 882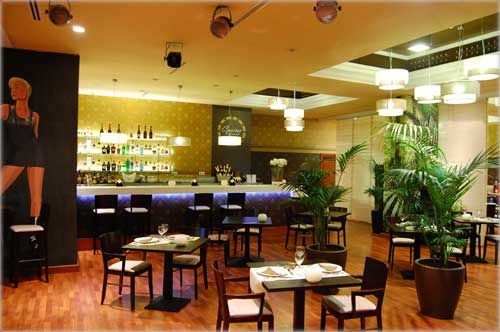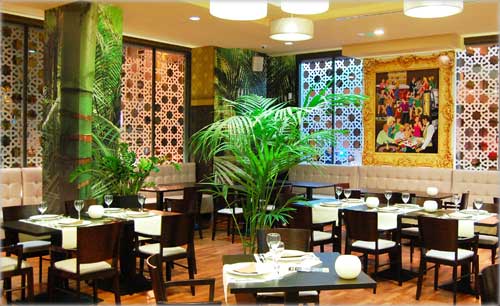 They are currently offering a special deal on Fridays and Saturdays. For 20 Euros, one can get an entrance, dinner with live music, and a drink.
In this casino, you can play Black Jack, American Roulette, and various types of Poker. Click here to check out their Facebook page with updates for the weekly poker tournaments. They also have plenty of slot machines.
Click here to return from Casinos in Gran Canaria to Information About Gran Canaria

Click here to return from Casinos in Gran Canaria to Home Page