Maspalomas to Las Palmas bus
The Maspalomas to Las Palmas bus is  operated by the company called "Global", that operates the blue buses. There are various bus lines that will take you there. The main difference is the number of stops and the frequency. The fastest lines are 30 and 50. The slowest ones are lines 01 and 05 which stop almost in every village along the way.
Line 30
Line 30 is one of the most popular lines. It makes few stops after it leaves the south, and you can get to the capital in less than an hour
How Much Does It Cost
The onboard ticket, which you can buy from the driver, costs 5.60-6.25 euros, depending on whether you get off at the San Telmo bus station or the Santa Catalina one. This will get you from Maspalomas or Playa del Inglés to Las Palmas de Gran Canaria. If you want to use the bus a lot, then you might be interested in applying for the TransGC card. You can check out the full rates and how much you would save, by going to the bus fare calculator page. (Opens in a new window)
Maspalomas to Las Palmas bus: Where to get off



This bus makes a few stops in the capital city of the island. These are the most relevant ones:
Teatro: If you want to see the old town and the main street (Triana), this is the place to get off. It is also convenient for those who prefer not to walk much to get a taxi. The taxi rank is located next to the bus stop. 
San Telmo: This is the main bus stop. It is located underground and you will need to walk a couple of minutes to come out, e.g. to get to the taxi rank, or go to the yellow bus stops located on top.
Club Naútico: If you want to visit the main department store (El Corte Ingles) and shops around it like Zara, get off here and use the overhead flyover to cross the road. The flyover is conveniently located next to this bus stop.
Parque Santa Catalina: The bus line ends here, except for a couple of buses that end in the San Telmo bus stop. 
Click here to download the updated timetable for line 30 (opens in a separate window)

Line 50: Super Faro, the Super Fast Maspalomas to Las Palmas Bus (Recommended)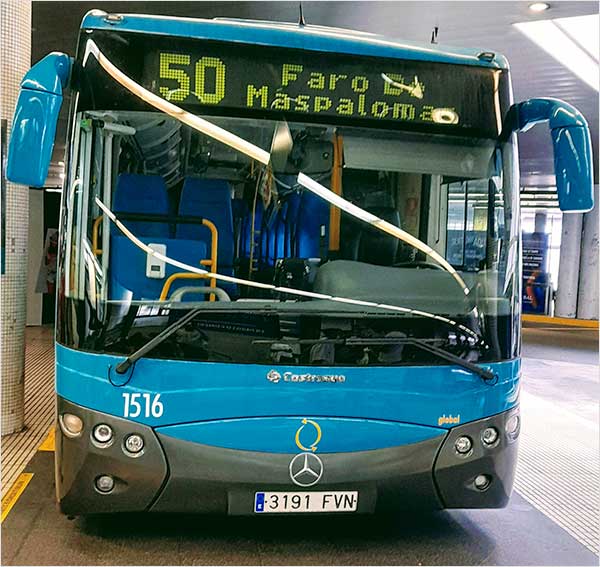 This bus is the fastest option if you want to go from Maspalomas to Las Palmas, and back. That's why it's known as "Super Faro", which means "Super Lighthouse." It makes very few stops. If you're staying near the bus stops, or willing to walk a little, it is worth it. Check out the timetable because it only runs during the mornings and evenings. The last bus leaves Las Palmas at 17:05; it leaves from Maspalomas at 18:05.
Line 50 Bus Stops
Maspalomas Lighthouse (Faro de Maspalomas)
Cruce de Faro
Cruce El Tablero
Urbanización Koala
San Fernando
El Veril
Hospital Insular
San Telmo (Main Bus Station)
Click here to download the updated timetable for line 50 (opens in a separate window)
Click here to return from Maspalomas to Las Palmas bus to Gran Canaria buses
Click here to return from Maspalomas to Las Palmas bus to the home page