Teatro Bus Stop
Our favourite Teatro bus stop is located right in front of the Teatro Perez Galdós concert hall. It is one of the first stops of the capital, Las Palmas de Gran Canaria for the blue buses arriving from the south. It is also a starting and ending point for many city yellow buses.
When you're arriving by public bus (eg. lines 30 or 91) from the south or the airport (line 60), we recommend that you get off here, instead of the next stop (San Telmo bus station). The main reason is that there is less walking to do, if you want to catch another bus or a taxi. You won't have to drag your bags uphill to the top floor, and you'll save time. The taxi rank is placed conveniently just ten steps away.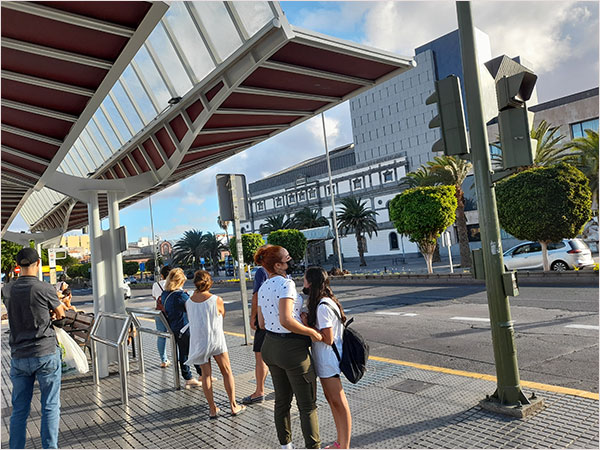 People waiting for the bus at the Teatro stop. Right opposite is the Teatro Perez Galdos, where concerts and shows are held.
Why We Recommend to Get Off at the Teatro Bus Stop
Here are a couple of other reasons why we like this stop so much:
Preference while getting in yellow bus numbers 1, 17, and others.

Many municipal yellow buses start here, so you get to get in first. This is useful when you have luggage.

Same stop as yellow bus no. 12:

If you want to transfer to this fast yellow bus, all you need to do is to get off, and then on. The blue buses share the same stop.
The taxi stand is conveniently located in a street next to the Teatro bus stop