Gran Canaria Aquarium: Poema del Mar
The Gran Canaria aquarium is a world class attraction that everyone must visit. It is located within a few minutes-walk from the cruise harbour in the Santa Catalina district, right in the heart of town (in Las Palmas). As you approach the big white building, it looks quite small. Don't be fooled, there is plenty to see inside. A typical tour can take almost 2 hours, if you want to see everything, on all floors.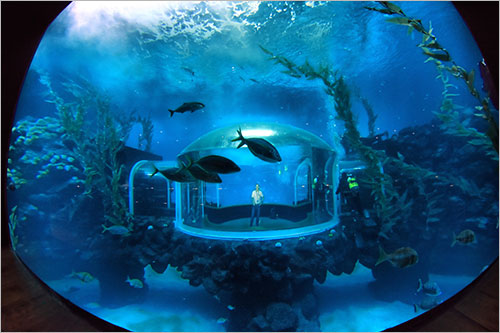 What's Inside the "Poema del Mar" Aquarium


There are different areas with different species of fish, and other sea animals.
Jungle: This is where you can check out the electrical eels, which can generate up to 850 volts
Deep Sea Exhibition: Here you see large fish, like the bull shark, through the world's largest curved methacrylate (36 meters long).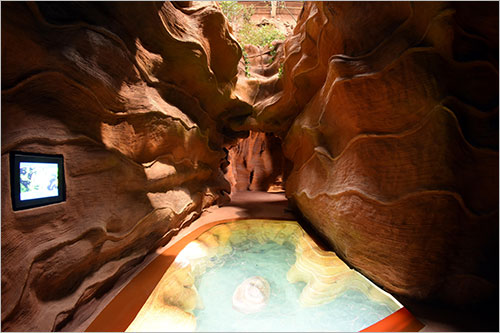 The Kiessling family, who are originally of German descent, but have spent so many years on the islands that they could be considered locals, are behind this project. They also manage Loro Parque and Siam Park, which are world-class theme parks, located in the neighbouring island of Tenerife. They are also constantly spreading the word about nature preservation projects, and have a foundation called "Loro Parque Foundation". One of the projects is to help the loggerhead turtles to reproduce. The foundation also carries out other environmental awareness campaigns.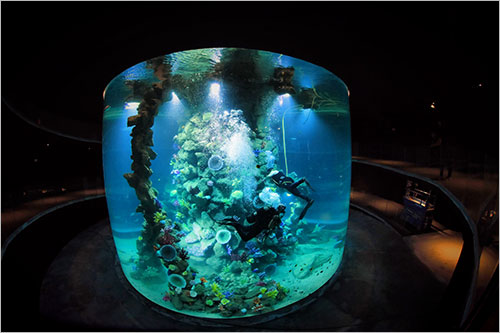 How to Get to the Aquarium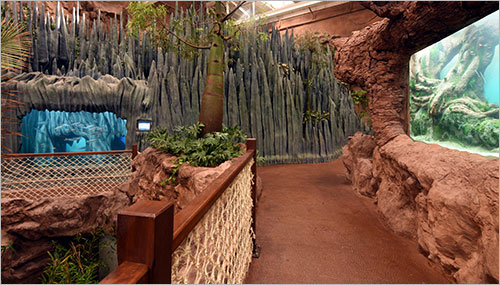 By public bus: If you're coming from the south of the island (Maspalomas, Playa del Ingles), then the bus you need to take is number 30, and head to north to the capital, Las Palmas. Just get off at the last stop, the Santa Catalina underground bus terminal. Come out, and you'll be able to see the aquarium from there; it is around a 5-minute walk, once you come out. If you're coming from Puerto Rico, Amadores, or Mogán, you can come in the bus, which will leave you at the San Telmo bus station, and then take a taxi from there.
Driving: Just get on the GC-1 motorway and head towards Las Palmas. Don't take any exit till you see the words "Santa Catalina".
Walking: If you're at the cruise harbour, or are staying in the centre of Las Palmas, near Las Canteras beach, then the aquarium is just a short walk away.

Gran Canaria Aquarium Contact Information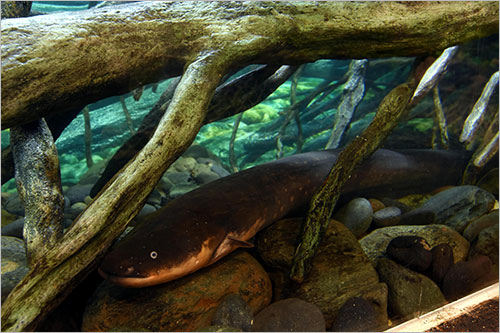 The staff working at the aquarium are well-trained and able to speak different languages, so if you get lost, or need assistance, you can call them. 
Website: www.poema-del-mar.com
Address: Muelle Sanapú, Las Palmas de Gran Canaria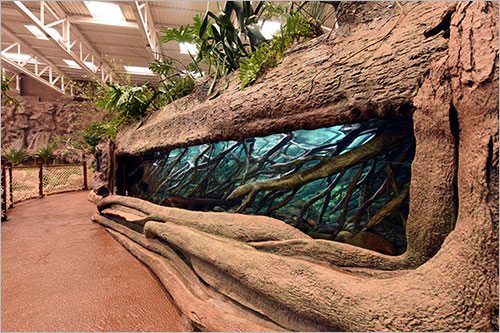 Click here to return from Gran Canaria Aquarium to Gran Canaria Attractions
Click here to return from Gran Canaria Aquarium to the Home page