Tenerife Theme Parks: 2 Great Parks Next Door


The two biggest and most important Tenerife theme parks are Siam Park and Loro Parque. One is located in the north of this neighboring island, and the other, in the southern part. To get to these parks from Gran Canaria, there are tour packages where everything's taken care of, or you can organize it all yourself. 

Tenerife Theme Parks: Siam Park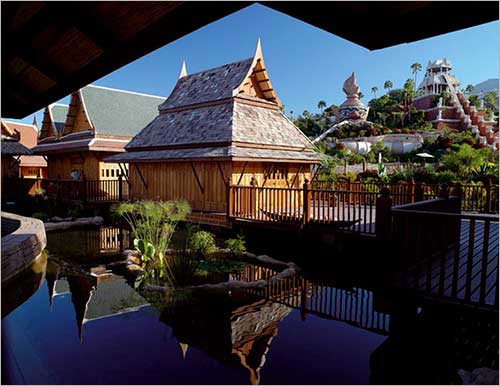 Entrance of the Siam Park where you can see the pagodas
This is a huge 185.000 square meters, Thai-style water park, located in Adeje, in the south of Tenerife. It is a world class attraction, and keeps on getting awards every year, including the 2015 Tripadvisor Travellers' Choice award. It has the best water slides and pools, including attractions like the "Wave Palace" where you can surf in warm water, all year round. They have also built an artificial beach called "Siam Beach" with sand brought from the Algarve area in Portugal, for those who just want to sit under the sun. For those who want to add a little excitement to their lives, visit the "Tower of Power" . This is a vertical slide which goes underwater, through an aquarium of sharks!!!! Now, if you want something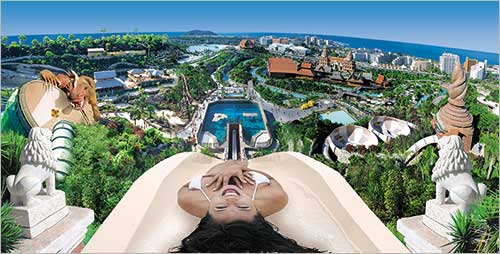 The Tower of Power slide is very steep and goes underwater

Siam Park Video


In the video below, taken in 2013, you can have a good look of what this waterpark has to offer. Since then, a couple of new attractions have been added, making it even better.

Loro Parque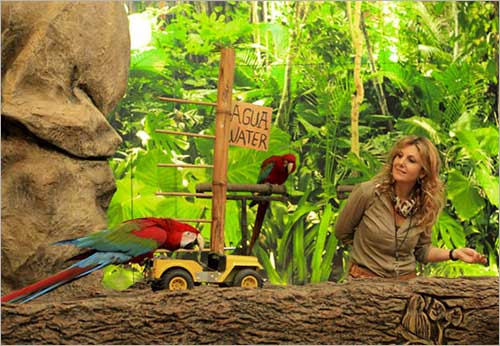 Parrot shows are held throughout the day in Loro Parque
This is a massive animal park located in Puerto de la Cruz, in the northwest of Tenerife, and has also received the same Tripadvisor award as the other park. Here,  you can see a big variety of animals, and enjoy plenty of animal shows. The parrot, dolphin, and whale shows are definitely worth visiting. You can also see penguins, sea lions, sharks,  gorillas, white tigers, anteaters… Their "Discovery Tour" shows you all what you wanted to know about how the animals are taken care of, and how the park works from inside out. After you have walked around, you can enjoy a hot lunch in the open air restaurant. Remember to take your camera or smartphone!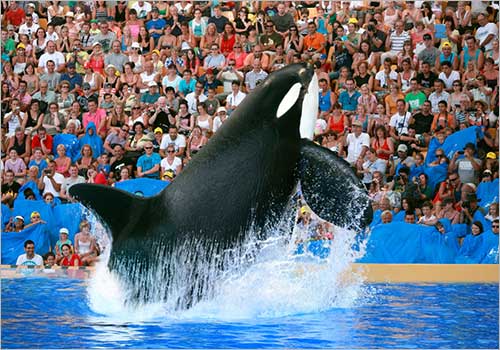 The Orcas have been brought from Seaworld in Florida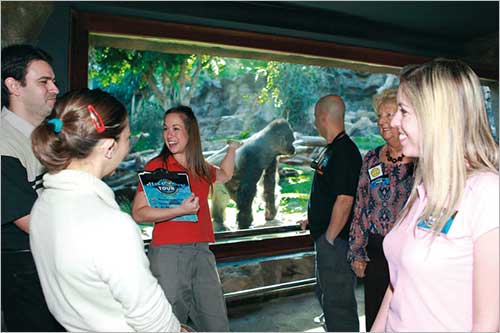 During the Discovery Tour, you will learn what goes on "behind the scenes"

Loro Parque Video



Loro Express Tour Package


This is a package tour that can be bought from any travel agency, and is provided by the Fred Olsen ship company. It includes the following:
Ticket to the park
A bus ride from Parque Santa Catalina to the Agaete harbor in the northwest of the island (30 min). 
Ferry from Agaete to Santa Cruz de Tenerife (80 minute journey time). 
Another bus ride from Santa Cruz to Puerto de la Cruz, where the park is located (40 minutes).
A similar package deal is available for the other theme park , Siam Park. It is called, you guessed it, "Siam Express".

Tenerife Trip: Do It Yourself


To visit the neighbouring island, all you have to do is buy the ferry or plane ticket, from any travel agency, or online.
Ferry: If you rent a car, you can drive to Agaete and put the car inside the ferry. Once you arrive in Santa Cruz, you can drive to the park.
Plane: If you prefer to go by plane, there are buses from the Tenerife airports to both theme parks. Plane tickets from Gran Canaria to Tenerife are quite cheap. Keep in mind that flights from the Gran Canaria airport and the Tenerife north airport (near Loro Parque) are very frequent, whereas flights to the Tenerife south airport (near Siam Park) are only once a day. Flight time is 30 minutes to TFN (Tenerife north) and 40 minutes to TFS (Tenerife south).
There is a free yellow train, that kids will love, from the centre of Puerto de la Cruz (near the TFN airport) to Loro Parque, every 20 minutes.
Our Recommendations
Break your journey: Try staying a day or two in Tenerife, or arrive in Gran Canaria, and depart from Tenerife, back to your country. It will definitely improve your holiday experience, if you really want to see both the Tenerife theme parks. We recommend staying in any of the Adeje hotels, that are just 5 minutes away from Siam Park.
One park a day: In each theme park, you can easily spend 4-6 hours, so it isn't a good idea to try and do both, on the same day. During the summer, which is when local kids are on vacation from school, you will have to wait in line, to use the water slides, or visit the attractions.
Twin ticket: This special 2-for-1 deal is the best value. You can visit each park on a different day, as long as you keep the receipts. Different options of this ticket are provided. You can choose to buy the twin ticket alone, with lunch, or with bus service between the parks.
Stay in the park itself: In Siam Park you can rent your own private log cabins (for 4 people) or villa (for up to 15 people). 
For more information about these two Tenerife theme parks, click on the following links: Loro Parque     Siam Park
Click here to return from Tenerife theme parks to Attractions in Gran Canaria