Best Gran Canaria Nativity Scene on Las Canteras Beach


The Gran Canaria Nativity scene is made of sand on Las Canteras beach and is definitely a "must visit," if you're here in December. This is the eighth year in a row that this will be displayed. In 2012, over 120,000 people visited it, and a similar amount of people are expected this year 2013. It is open between December 5 until January 6th 2014. This year, 6 sculptors (3 Russians, 1 Danish, 1 Italian, and one Canarian) really worked hard to build it.


The Three Wise Men, on their way to take gifts for baby Jesus. In fact, the big day for Spanish children is January 6th, which is when the Wise Men (known as "Reyes Magos," which in Spanish means "Magical or Magician Kings) deliver toys to the kids who have behaved properly. Those that don't behave are threatened by their parents by telling them that the Three Kings will deliver coal instead of toys, but this rarely happens.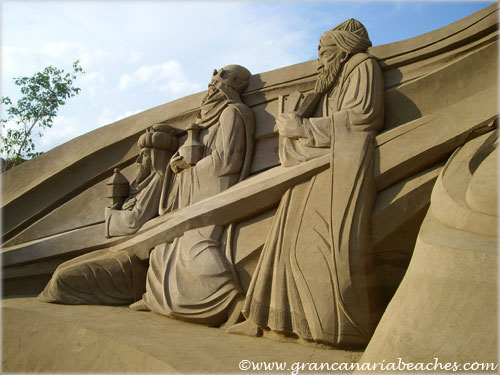 This fountain in the shape of a water cannon makes onlookers pause their tour and think, "now, how does this work, and stay in one piece?"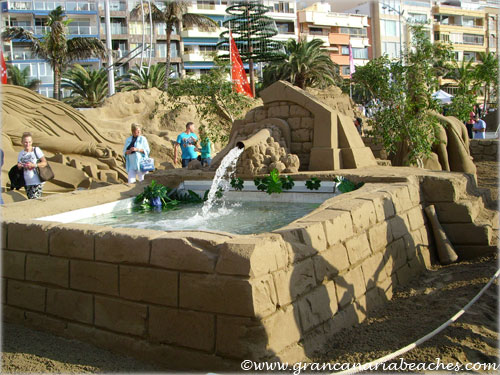 The Star of Bethlehem marks the coming of Christ, and is always present on all Nativity scenes.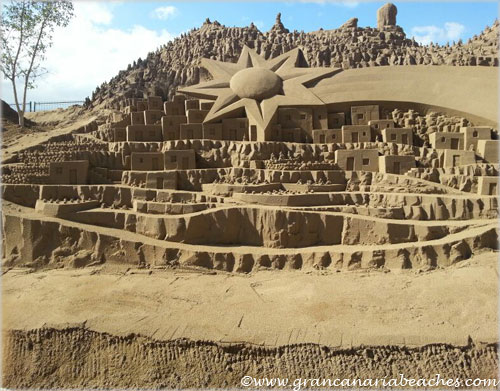 2000 tons of sand were required to make this work of art. The total area that it takes up is 1500 square meteres. It wasn't easy to do the job. The main problem was the rain which fell while the artists were working. Some of the statues had to be sculpted twice. It took a whole week to make this work of art.

Below is the figure of a man who transports water on the back of his mule.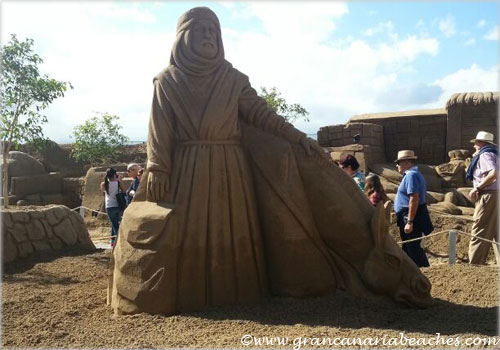 Entrance is free of charge, but visitors can leave any amount of money, which will be donated to 4 local charities who take care of feeding the needy.

The sand sculpture below pays tribute to fishermen and their families, which is really what locals used to do before tourism started in the Canaries.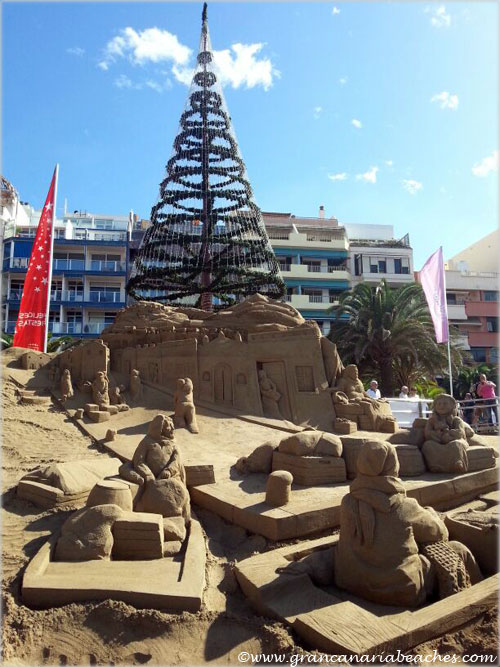 Below is the photo of the Nativity scene where you can see the birth of Christ.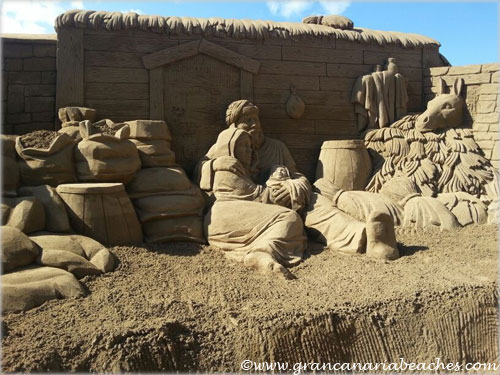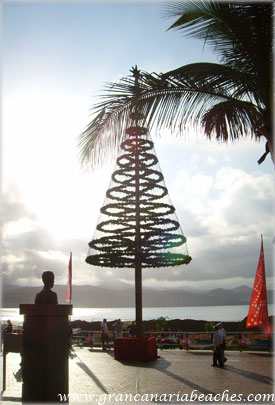 The Las Palmas de Gran Canaria City Council places this nice Christmas tree  prominently on the beach, right next to the sand Nativity Scene. This photo was taken on December 6th with over a temperature of over 22 degrees centigrade, and with a promenade full of locals as well as tourists.
The Annunciation to the Blessed Virgin Mary takes place when angel Gabriel comes to her, and announces that she would conceive and be the mother of Jesus.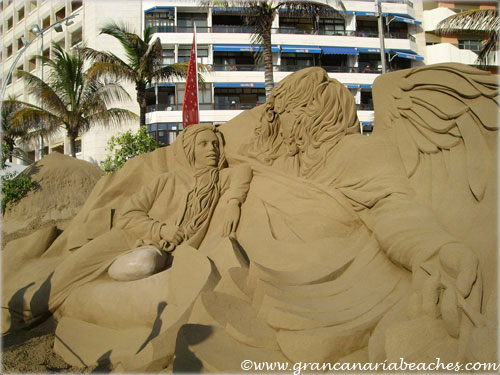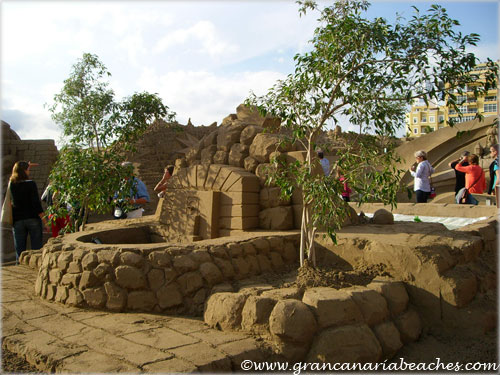 The opening hours to visit are: 10.00 to 22.00 except on Christmas eve and New Year's eve, when they open from 10.00 to 20.00.
If you want to read more about the Las Canteras beach Nativity scene, check out their Facebook page by clicking here (opens in a new window).

Click here to return from Gran Canaria Nativity scene to Las Canteras beach page
Click here to return from Gran Canaria Nativity scene to Home page