El Muelle Shopping Centre - Centro Comercial "El Muelle"


El Muelle Shopping Centre is located in the capital, Las Palmas de Gran Canaria, a short walk from the Santa Catalina park, inside the harbour (the word "muelle" means "harbour" in Spanish). In this medium size shopping centre, you will find nice open air restaurants and bars, which face the harbor, and also have good views of the city. There are some nice shops too, and a supermarket. This mall is starting to slowly fill up with new shops, after many of them had to shut down, during the recession. Free parking, limited to 3 hours, is available throughout the year.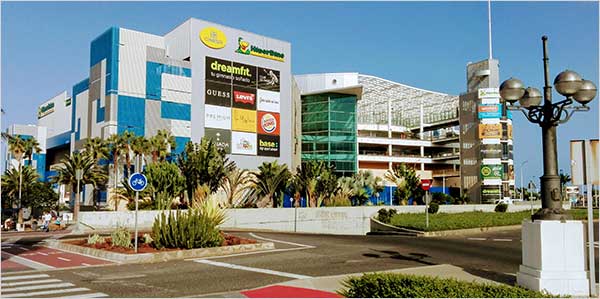 It is conveniently located for tourists arriving on cruise ships (a 3 minute walk, you can't miss it, because if you want to go anywhere, you will pass in front of it). If you look at this shopping centre from outside it looks like the various decks of a cruise ship, and that is why it probably was chosen as the best European shopping centre back in 2003, when it opened. That was back then; right now few shops are open on higher floors, except for the outdoor eating and drinking places. Some activities are held at this shopping mall, to attract shoppers.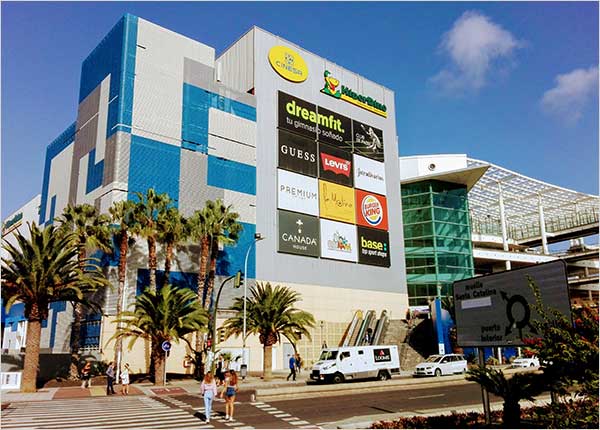 Recommended Stores in El Muelle Shopping Centre

This mall has about 30 shops and a dozen places to eat. Here is a selection of the best ones:
Supermarket: HiperDino (3000m2 area, opened in October 2014). It is conveniently located for cruise ship passengers to buy food, and drinks, and walk back to the ship with the bags (few minutes walk). It gets busy, especially on Sundays.
Luxury Items: FundGrube offers a selection of perfumes, cosmetics, watches, sunglasses, jewelry, shoes, bags, and other high end items, in a 500m2 store.
Watches: Time Road
Clothing shops: Cortefiel, C&A, Springfield, Benetton, Stradivarius.
Electrical goods: Worten (on the first floor) is a large store where you can get all kinds of electrical goods.
Shoe shops:  Mary Paz

Perfume shops: Douglas

Costume Jewellery: Bijou Brigitte
Bookstores: News & Books (English newspapers and magazines), Idiomatika (English books, tourist guides, introductory Spanish courses)

Sports shops: Base, Sport Zone (huge shop on the ground floor)
In "El Muelle" you can find lots of different restaurants, such as:  
- Italian restaurant Gino's
- Continental food
- Fast food (McDonald's & Burger King)
- Vips (Spanish chain of restaurants)
- WOK El Muelle
Recently, an Irish tavern called "Limerick" has opened on the top floor. Recommended!
Other interesting things:
- Bowling & videogame arcade on top floor
- Cinema on top floor (all movies in Spanish)
- Internet access terminals on the second floor (pricey! 5 minutes: 0.50€, 15 minutes: 1€, 30 minutes: 2€)
- Free parking for 3 hours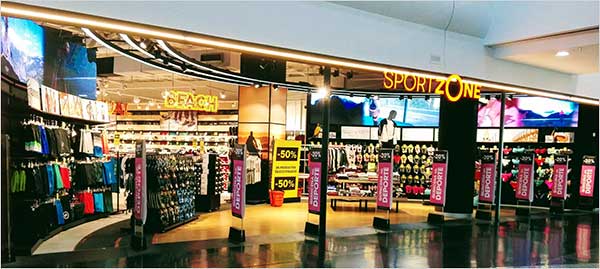 SportZone has a selection of sports goods


"El Muelle" Shopping Mall Details


There is a taxi stand in front of the shopping centre. Bare in mind that taxi rates are slightly higher if you take a taxi from here, because the taxi stand is located inside the harbour. If you walk across to Parque Santa Catalina (5 minute walk), and take a taxi from there, you can save some euros.
Opening Hours: 10.00 to 22.00 hours (shops) and 10.00 to 2.00 hours (bars & restaurants). McDonald's is open 24 hours a day.
Address:
Muelle de Santa Catalina s/n
35008 Las Palmas de Gran Canaria
GPS Location of El Muelle Shopping Centre:
Latitude: 28° 8'30.22"N
Longitude: 15°25'42.00"O
To learn more, check out their website and their Facebook page.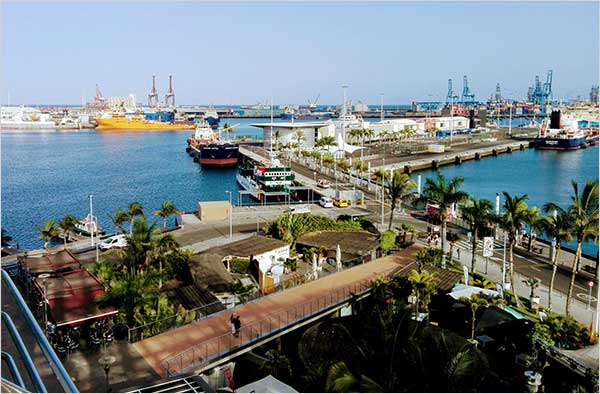 You can enjoy breath-taking views of the harbour, and the city, while you enjoy a cup of tea or coffee
El Muelle Shopping Centre Review: Who it is For


This medium-sized shopping centre is recommended for cruise ship passengers. Ships dock just a couple minutes-walk from where it is located. This makes it really convenient for those who don't want to walk much, and be within a close walking distance to their ship.  Most visitors (and even local residents) go to the supermarket, while others can buy perfumes, souvenirs, magazines, etc. from the other shops.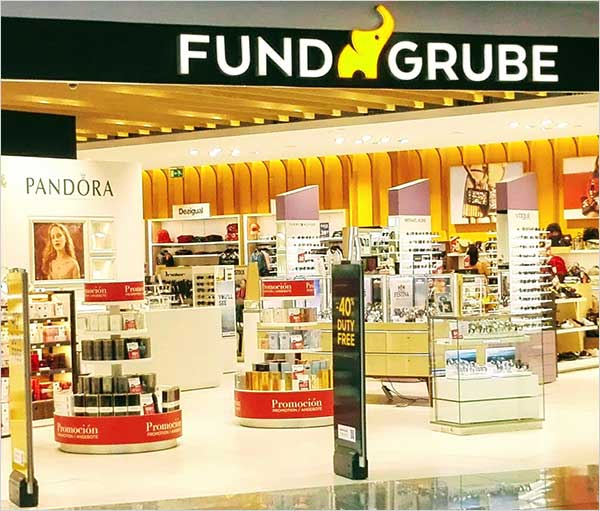 Fundgrube has a selection of luxury goods at great prices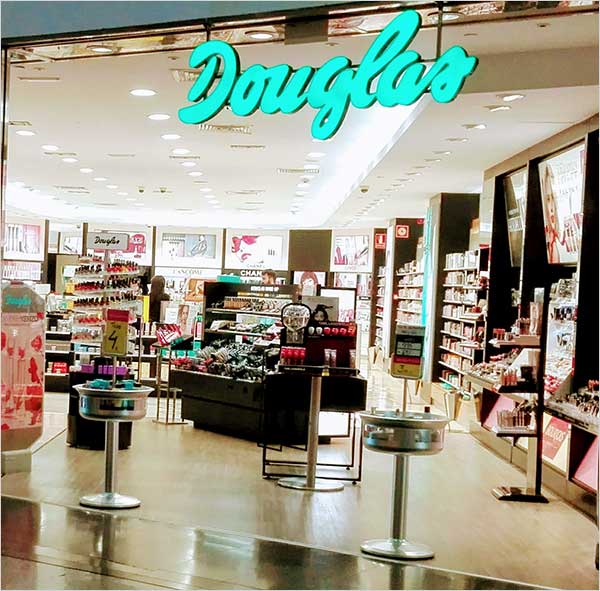 Having coffee, or lunch in the outdoor restaurants (with great views) is another option for those who want to walk around the Santa Catalina square and still be near the harbour. It is the perfect place to sit down after lunch, and enjoy the fantastic view of the harbour, and city. If you go to one of the fast food restaurants like McDonald's or Burger King, you can stay there for hours. No one will tell you to leave.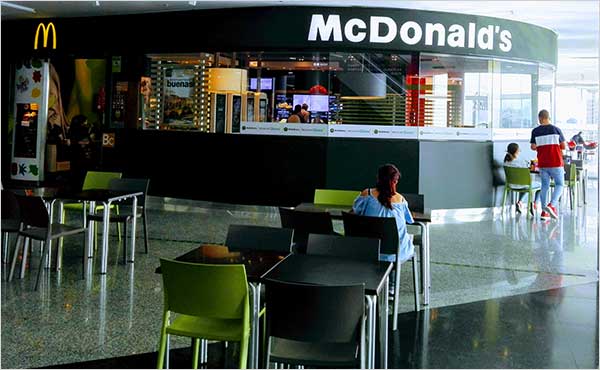 The main drawback of this mall is the limited selection of shops. Besides the nice shops in the ground floor (and a few on the first floor), there is little to see in the remaining floors. The new aquarium next to it was supposed to pump some life in it, but the results haven't been as expected. This will probably change in the future, when proper management is in place. During the last few years, the owners had to give it up to the banks, since they were unable to pay back the loans. 
Shopping Centre Rating
★★★☆☆
Return from El Muelle Shopping Centre to Gran Canaria Shopping
Return from El Muelle Shopping Centre to Gran Canaria Beaches