Gran Canaria Airport: What to do While You Wait for Your Flight


The Gran Canaria airport is very modern, and is open 24 hours a day, 365 days a year. This airport is located about half way between the capital ( Las Palmas ) and the south of the island, right next to the GC-1 highway, on the east coast. It has been expanded and improved. New shops, extra parking space, and free Wi-Fi are among the improvements. There are plenty of taxis and buses available, if you choose to use public transportation. It is extremely rare to not find taxis outside, waiting to pick up passengers.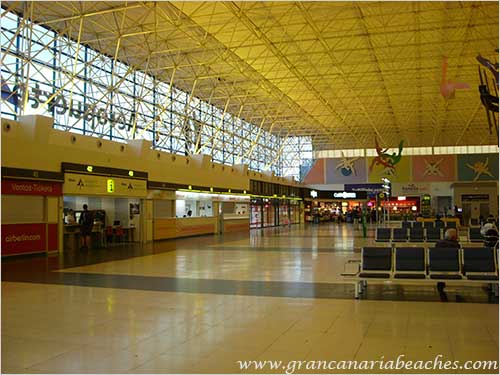 An average of ten million passengers go and come every year. There are two sections for departures on the first floor, one for local flights between the islands (check-in counters 1 to 34) , and one for flights going outside the islands (check-in counters 40 to 91). You can fly directly to over eighty different cities in Europe and Africa. Click here to see the complete updated list of destinations, and which airlines fly to what cities.
During one of my visits to the Gran Canaria airport, I met Carlos (above), a friendly guy, who helps tourists wrap up their bags with a layer of protective plastic for 6.50 euros.
Airplanes arriving at the Gran Canaria airport, can either land next to the main building, and let the passengers down through the fingers, or park in the middle, and let the passengers come or go in buses.
There are plenty of trolleys available for anyone who wants, although most people don't use them.
If you can't walk too much, or are disabled, the staff at the airport will gladly help out and provide a wheel chair, and get you through all the check in and boarding process. You can request for assistance by phone or by filling out a handy form. Click here for more information. It is important to also contact your tour operator and airline, so all three parties co-ordinate.
There is plenty you can do at this airport. There are 12 gift stores, 13 bars, and 4 restaurants. Most are located inside the passengers-only departures section. 9 cash machines are evenly distributed around the airport buildings.

Shops and other Things Located Outside (before passing the security check) the  Gran Canaria Airport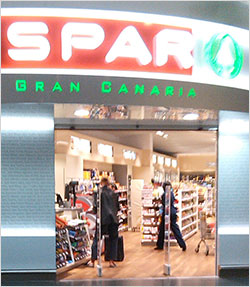 - Supermarket: It is  located in the "arrivals" floor, downstairs, so visitors can pick up drinks and food, before they head to their appartments or hotels.
- State lottery store: Want to try your luck with the Euromillions or other Spanish state lotteries? This is the place! Located near the entrance of departures, next to the newspaper shop.
- Pharmacy. It is small, but fully equipped with any kinds of medicines you might need in the last minute before flying. Open every day of the week from 08.00 to 22.00 hours. Located on the "departures" floor.

- Coin-operated internet access terminals with printers: There are four on the airport, and are there to print your boarding pass or any other documents you want to print out urgently., You can save money by using these terminals, because there are airlines (like Ryanair) that charge passengers extra if they don't print their own boarding passes. The cost for printing up to 3 pages, is 3 euros.
- Car rentals: There are 6 of them located in the "arrivals" section: Hertz, Europcar, Cicar - Sixt, Avis, Top Car Autoreisen (World of Tui), and Gold Car.
- Post office: If you forgot to send postcards, you can send them before flying.
- Travel Agency: Here you can buy tickets for those airlines that don't have an office at the airport


Shops and other Things located Inside (after you pass the security check):

- Fantastic 886 square meter VIP lounge at the Gran Canaria airport for all travelers: Most people don't even know it is there. It is the best place to go when you reach too early or when there are unexpected flight delays. It has very comfortable sofas, internet access, TV, free (hot and cold) drinks and snacks. Best of all, you will be reminded when it is time to go (in case you doze off)  and escorted to the boarding gate. The price is a little over 20 Euros, and you don't have to be a VIP, special card,  nor have a business or first class ticket to go there. If you do have a Diners Club card (or similar credit cards) or business class ticket, entrance is free. We strongly recommend NOT to buy an online pass for this lounge, because all the online prices we have seen are higher than the offline, at the airport price. Time limit is 3 hours. This is to avoid "clever" people using it as a hotel room, to spend the whole day there. 
- Starbucks: The nice Starbucks coffee shop is located at the airport. It used to be the first one on the island, but now they've opened all over the island. Nice sofas, plenty of space, great coffee, muffins, cookies, cakes, salads, and sandwiches. Open from 6 in the morning till 9 in the night. Free Wi-Fi, limited to 40 minutes, but they don't mind giving you another 40 minutes if you are still there.
- Burger King: A close friend loves to eat from fast food chains like Burger King when he is traveling, because he says he is sure of what he will get anywhere in the world. He calls it "safe food".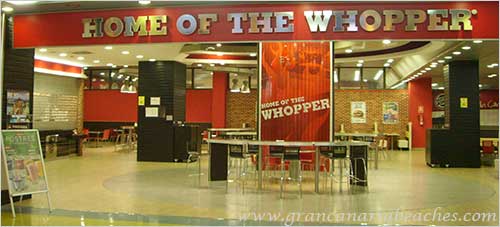 - Lizarrán: Best place in the airport for Gran Canaria (Spanish) tapas.
There are plenty of nice shops where you can buy reading matter, gifts, tobacco, liquor, clothes, etc. Bare in mind that most prices, especially if you're looking at tobacco and liquor, are cheaper anywhere outside the airport. Although you will be told it is "duty free", the shops at the airport have to pay high rents, and also give a big portion of their profits to the airport company. This can only be done by having higher profit margins than smaller shops outside the airport. 
At the airport, you will also find buffets where you can choose between different types of packed sandwiches. A word of caution if you are vegetarian: some restaurants don't completely get the meaning of "vegetarian."  We say this because the "vegetarian" sandwiches sold at this airport include pieces of tuna fish.

Duty Free Allowances when traveling back to the European Union


Gran Canaria, and all the Canary Islands, are considered non-European Union, and have lower allowances on items such as cigarettes and liquor when going back to the EU, so keep them in mind while shopping on the island or on the airport for Gran Canaria Duty-Free shops. First of all you have to be 17 years old or over. These are the items you are allowed, per person:
Cigarette Allowances (You can match and mix, but never go over the limit, for example, it is okay to take 100 cigarettes and 25 cigars):
200 cigarettes
100 cigarillos
50 cigars
250g of tobacco
Alcohol Allowances:
1 litre of spirits or strong liqueurs over 22 % volume OR

2 litres of fortified wine (such as port or sherry), sparkling wine or any other alcoholic drink that's less than 22 % volume
You can also bring a combination of the above two items.
You are also allowed to bring both of the following:
16 litres of beer
4 litres of still wine
Allowances for Other Items like Perfumes and Gifts & Souvenirs:
430 Euros or 390 British Pounds

How to Reach the Gran Canaria Airport


Getting to the Gran Canaria airport is easy. You just have to find your way to the main highway, the GC-1. It doesn't matter if you're coming from the north or the south. Exits are clearly marked with a airplane logo, and once you're inside the airport, everthing is very clearly written on big signs.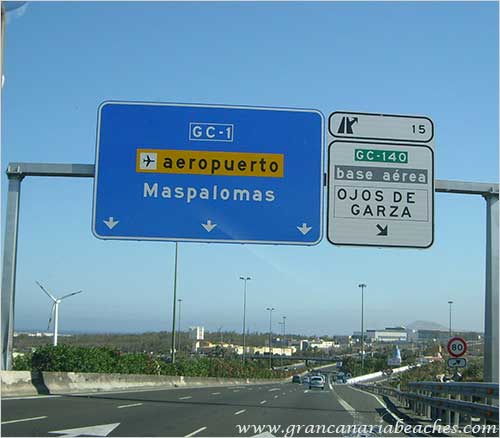 It is impossible to get lost in this airport. Everything is clearly visible. Either you go to departures, arrivals, car rental parking areas, or the parking areas for normal cars. 
Gran Canaria Airport Videos
This is a fantastic video that I really love, and was taken by one of the pilots, of the German airline Condor, which regularly flies to Gran Canaria. It shows how the plane lands and takes off on the island.
Here's a great time-lapse video made by Sergio Hierro. It was taken from the air traffic control tower, and shows the activity on the busiest day of the week, Wednesday. Best to watch full-screen.

Gran Canaria Airport Free Mobile App Download Links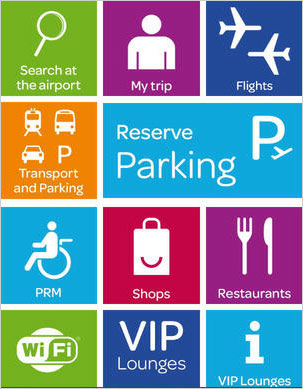 If you want to check whether your flight is on time, or what gate number your flight has been assigned, then you will love the Spanish airports app, called "Aena Airports". You can also check the special offers in the shops, parking areas, and restaurants, as well as request a wheel chair if you can't or don't want to walk too much.
Click here to go to the Google Play store, to download this on your Android device
Click here to go to the iTunes store, to download this on your Apple device

New Security Measures
From March 2015 due to new regulations, there are additional security checks at the airport. Besides having to carry any containers with liquids in plastic bags like before, you will need to place your tablet or laptop in a separate tray, and then security personnel will request that you turn it on and show them.  Also random checks on hand luggage have increased, so add some extra time for that too.
Gran Canaria Airport Internet Access: How to Connect 
Good news: everyone can use 30 minutes of free Wi-Fi, and then after that, there is a charge.  To enjoy this service:
1) Activate your Wi-Fi
2) Go to the wireless service providers list that your device has detected, and choose "Kubi Wireless"
3) Open your browser and enter your name, e-mail, sex, age, country, post code, and you're ready to go. Sometimes you may have to watch a 20 second publicity video, but in our case it didn't show.
Our team tested this service in March 2015, and the connection speed was excellent. We activated our Office license at the airport and it didn't take very long, to download it.  Using a proxy server service, like Hide My Ass, will keep data encrypted while navigating in public networks like this, so that no one can have access to your private data, and you will also be able to watch TV programmes from any country.
Return from Gran Canaria airport to Information About Gran Canaria
Return from Gran Canaria airport to Home Page