Los Alisios Shopping Centre: The Biggest Shopping Mall in the Canaries
The Alisios Shopping Centre opened at the end of November 2017 in the outskirts of the capital, Las Palmas de Gran Canaria. It is the largest mall of the Canaries, has a variety of shops, restaurants, and other interesting things to see. It has tried to differentiate itself from other shopping centres by having more outdoor areas, and encourages visitors to walk around more, and enjoy eating and drinking in the open air cafes, bars, and restaurants. 
Los Alisios Shopping Centre: Best Shops to Visit
Los Alisios Shopping Centre had an impressive Christmas decoration
Clothing Shops:
Zara group: They have shops for all ages:  Zara, Pull & Bear, Massimo Dutti. Stradivarius
H&M: The Swedish chain store has opened another store here too.
Yogi Premium Brands: Here you will find the top world class brands in clothing
Electronics: The German electronics giant Media Markt has opened a big shop there.
Sports gear stores:
-Adidas
-Footlocker
Tip: If you're looking for sports items, there is a massive Decathlon shop right next to this shopping mall. 
Supermarket: Hiperdino, the local chain of supermarkets located all across the Canaries, has opened a huge market in this mall
Furniture: Conforama, and the Danish JYSK store
Bars and Restaurants:
Besides fast food chains like KFC, and McDonald's, there are nearly 2 dozen places to eat meals, tapas, and have plenty of drinks. If you like coffee, then there's a Starbucks, and a Dunkin Coffee shop. 
Cinema: Great cinema, but no use for anyone doesn't speak Spanish.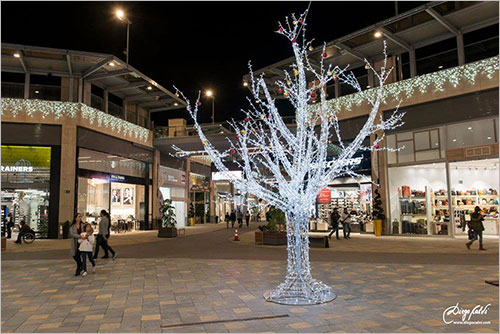 This other Christmas tree was out of this world!

Floor Plan
Click here to check the floor map and full list of 120 stores (remember to click on BOTH floor buttons, to see what's going on: "Planta Alta" & "Planta Baja"):

http://vivealisios.com/directorio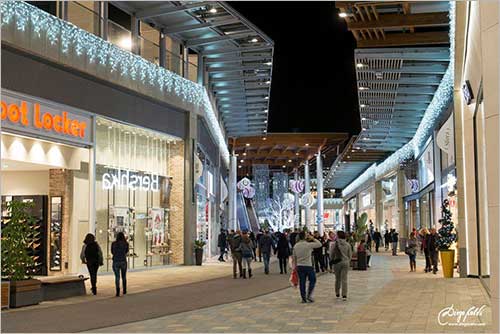 A view of shoppers browsing around the centre

Opening Hours
This shopping mall has two timetables: one for shops, and the other for restaurants. Shops are open from ten in the morning, until ten in the night all Mondays to Saturdays (and a few Sundays and holidays during the year). Bars and restaurants have no restrictions and are open every day of the week, from 9 in the morning until midnight. In the weekends (i.e. Friday and Saturdays) they open till 1 a.m.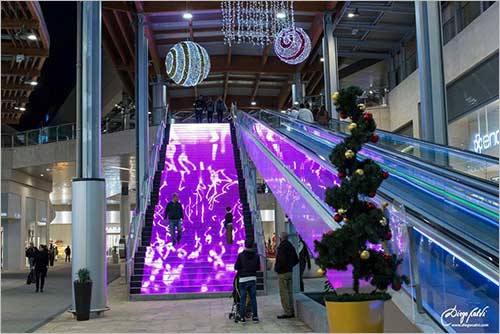 The staircase, with built-in LED screens, is one of those "wow" places in the centre, ideal to take a selfie.

How to Get to Los Alisios Shopping Centre
Address: 
Vive Alisios
C/ Hermanos Domínguez Santana S/N,
GC-308 exit number 9, 35018
Las Palmas de Gran Canaria
Phone number: +34 928 42 31 11
https://www.facebook.com/vivealisios
There are plenty of places to just sit around and take a break
To get to this shopping centre you can take a bus, taxi, or drive there.
If you're driving, all you have to do is to get on the GC-3 motorway and then take exit 9. During certain times of the day, on this motorway, there are bottlenecks and it can take longer to get there, but generally it isn't the case. A better (and direct) road that links this mall to the main motorway will be built in 2018.
Free parking is available, where all the cars can park on the same floor. This makes it easy to search for a parking spot, and to find your car once your going back.

If you want to get there by bus, the best option is to go the San Telmo bus station, and then take one of the following blue buses: 216, 229, 320, 335. There are a couple of yellow buses that go there too, but there is little bit more walking to do, from where they will leave you: 44, 47, 91.
Photo credits: All of these photos were taken by our friend Diego Calvi, a professional photographer with years of experience. He lives and works in Gran Canaria. Check out his Facebook page by clicking here.
Click here to go to Gran Canaria Shopping