Norwegian Air Review: Very Pleased with this Great Low-Cost Airline


We have summarized our experience in this Norwegian Air Review. We had the chance to fly this airline in September 2014, and were very happy to see how good it was.  It has been awarded the best low-cost airline during the last few years. They have a modern fleet of planes, which fly from various European cities, directly to Gran Canaria.  To get the best deals, book early, because prices rise gradually, as each flight starts filling up.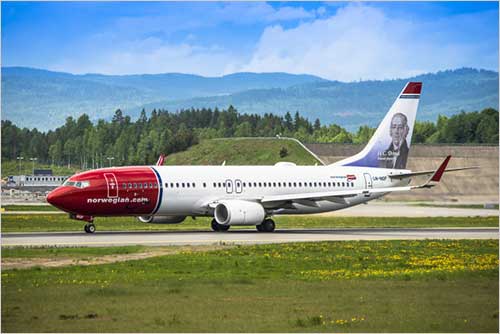 All Norwegian Air Shuttle Planes Have a Rid Tip and a Norwegian Hero's Photo on the Tail
Norwegian Air Review: The Crew
The crew were very friendly, and were all Spanish! They have made a base in Gran Canaria, where they live. Friends who have flown in this airline, have told me that there are crews of other nationalities too.
A great thing about flying Norwegian Air is that the crew lets you sleep. They don't drive you crazy by trying to sell you things all the time, and shouting on the loudspeakers, like Easyjet and Ryanair, do.
The Food
As in all low-cost airlines, you have to pay for everything. Food and drinks were reasonably priced, and they accept cash as well as credit cards. The menu is limited, but very tasty. Click here to download it
The Seats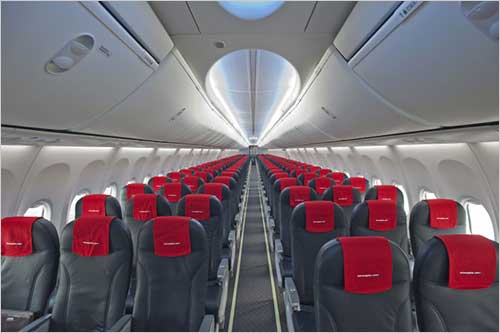 This New Boeing 737-800 Flies to Gran Canaria, and has Seating for 186 Passengers
Seats were wider than other low-cost airlines, and comfortable. I recommend to reserve the seat while buying the ticket. It is definitely worth the extra money. The planes are quite full, and when you do your online check-in 24 hours before the flight, the system will randomly assign a seat. If you are travelling with somebody else, it doesn't necessarily put you together. When you go the next day to the airport, it can be difficult to find two seats together. In my case, it could be done on one flight, but not on the other, so next time I will pay a little extra and have the seat I really would like.
On Board Wi-Fi
The free Wi-Fi onboard made the 5 hour journey less boring. We could check e-mails, send instant message, via Skype and Whatsapp. Some people in the plane were taking selfies to show off to their friends. Others were watching videos and movies on their tablets. It is recommended that you bring a tablet with a case that can stand by itself. If you bring a tablet without a case, it can get tiring to hold it up for such a long time.
The Entertainment
There were limited screens on the ceiling, and no map and flight data were displayed. This data was available on your phone, when you logged on to their Wi-Fi.  They showed movies for a very limited time at the end of one of my flights. During the other flight, nothing was shown at all on the screens.  For those who brought their own tablets, there were various free movies available to watch.
The Air-conditioning
On the flight departing from Gran Canaria, the air-conditioning was way too high. It was very chilly and they turned it a bit down after complaining. A sweater is recommended to carry in the hand luggage. I wore a short-sleeved polo shirt, and didn't take anything else with me, so was freezing!
Boarding the Plane
They don't always have a "finger" that connects the airport terminal, to the aircraft door. Sometimes you will have to go in a bus for a short ride. Other times, you may have to walk. When there is no "finger"  passengers can enter the plane by climbing any of the two staircases of the plane, and go in from the front, or the back.  If a person mis-calculates where his seat his, he/she might enter from the wrong door, and have to "bump" into people coming the opposite  way. 
Norwegian Air Review: Conclusions
It is a great airline, with friendly crews.  We're looking forward to travelling again with them. 
Here are a few tips:
To get the best deals, book early, and pay to reserve the seat you really want, because planes are full, and it is difficult to get two seats together if you do it with the free option. 
Carry a sweater, smartphone / tablet to use onboard.
If you're hungry, take a sandwich, because food is served almost 2 hours after departure.
Click here to return from Norwegian Air Review to Cheap Flight to Gran Canaria