Gran Canaria Co-working Centers: How to Choose the Best One For You
There are plenty of Gran Canaria Co-working spaces to choose from. Local and foreign entrepreneurs feel that it is a good business opportunity. Every few months, someone sets up a new center. Some of them, are located near Las Canteras beach, in the capital Las Palmas de Gran Canaria. Others, are located down south. Wherever they are located, the most important thing to look out for, is that they must have a reliable broadband internet connection. 
10 Factors to Consider Before Choosing Between Gran Canaria Co-working Centers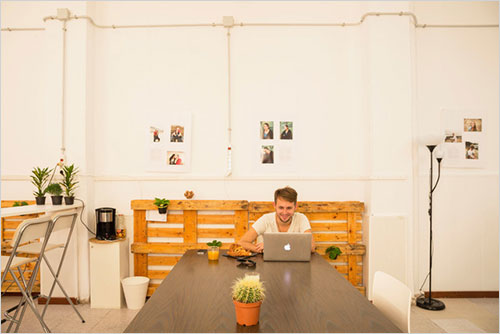 A happy client at the Restation co-working space in Las Palmas de G.C.
Here's a list of ten things to consider, and some other questions to ask, before deciding where your new working space will be:

Internet speed: Depending on what type of work you want to do, you must check the Internet speed. If you're going to upload large files, like videos, this will be important for you. Does the center have a backup in case the main connection is down? If the center is also arranging your accommodation, how good is the connection there?
Facilities: Is the place spacious enough to accommodate lots of people? Is it well lit? Is it clean? Is there a private booth for videoconferencing?
Price: Not always the more expensive centers will be better. You can compare the different places to see what you're really getting for the price.
Personnel: There are a couple of co-working centers on the island that, at times, leave the centers without anyone to take care of them. So, if anyone comes to ask for information, they will interrupt the co-worker (who, by the way, has paid money to be there, and work in peace). Do they speak English?
Added Value: This, although it may not seem important, can have direct impact on the future of the business. If the person managing the center is an experienced entrepreneur, he or she can help you to take your business to the next level. With their insight, not only can you can improve your current business, but you can also develop an entirely new project that you didn't even dream of starting. 
Positive Vibe: This is easy to see, and the advice of "cool" places spreads by voice of mouth. If a particular place has a positive vibe, people will be attracted to it, and share ideas. Is there a sense of "community"? Does it look like a fun place to be?
Activities: If you're looking for a co-working space, you probably don't want to be stuck to your computer all day. Many co-working spaces organize excursions, lunches, and other fun activities for their guests, and also to interact with local residents.
Location: If you're a beach person and need surfing lessons, then you need a place near Las Canteras beach. If you prefer to cook your own meals, you will need a supermarket nearby. Las Palmas has everything you need, and more.
Timetable: You will need to check whether the place where you want to work from, has the right timetable that you require. Some of them close early, others stay open till late. Rarely do we find any open after midnight.
Trial: Some of the co-working centers allow a free one-day trial. Others will charge you for a day. If you're unsure, why not try a couple out, before paying for a few months upfront?
Our team have visited a few of the Gran Canaria Co-working spaces. One of them is Restation, which is located in the center of the capital, Las Palmas, just a few minutes walk from the beach. Maria, the manager is a serial entrepreneur. She is very generous, and is willing to give valuable advice to help other people's businesses prosper.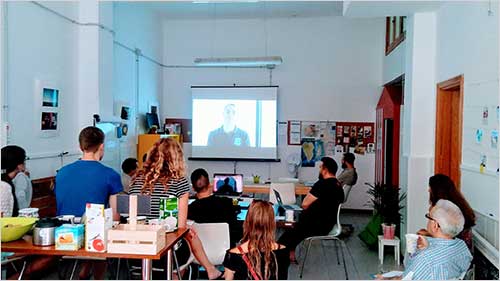 A free Bitcoin breakfast talk held in the Restation space
Click here to return from Gran Canaria Co-Working to Home page